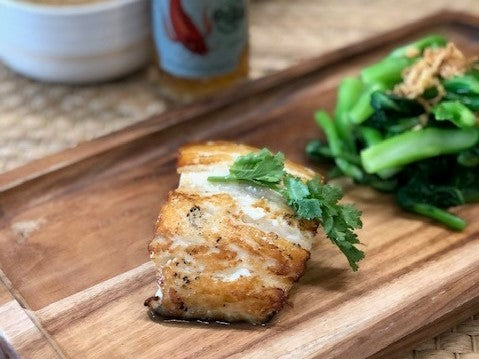 Ca Chien or Crispy Pan-Fried Cod with wilted greens and ginger Nuoc Cham.
Recipe
Ingredients:
4 x 6 oz Pacific Cod Portions or OceanWise recommended white fish like lingcod, sablefish or halibut.
2-3 Tbsp canola oil
2 Tbsp cornstarch
200 ml Nuoc cham
2 Tbsp ginger, peeled, minced (looks like a lot, but the more the better!)
10-2 pcs baby bok choy, halved washed (or gai lan, cut into 2" pieces)
3-4 stems either green onion, or cilantro, roughly chopped
salt to taste
pepper to taste
Instructions:
1. Combine Nuoc cham with minced ginger. Set aside.
2. Heat pan on medium heat. Lightly coat fish with cornstarch. Gently lay in oil skin side down.
3. Cook for 4-5 minutes, skin side. Flip flesh side down, cook for 1-2 min.
4. Take out and rest on plate, in warm place.
5. Remove excess oil from pan, add sesame oil, toss in bok choy (or gai lan). Season lightly with salt.
6. Cook bok choy for 3-5 minutes.
7. Garnish with herbs, serve bok choy, fish & jasmine rice. Each bite deserves a splash of ginger Nuoc cham.
Yield: 4 people
Time: 25 min