Crunchy Lemon Herb Baked Rockfish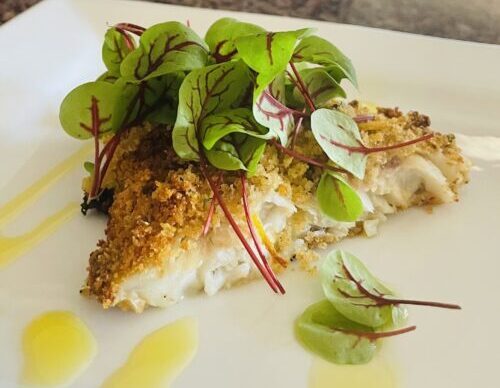 If you haven't had rockfish yet, stop right this minute and write it on your grocery list! No exaggeration. It is so good, buttery and rich, budget-friendly, and easy to cook.
Rockfish, also known as "Red Snapper of the North," is a mild-flavored, flaky fish.
Recipe
Ingredients:
1 lemon 
1 tsp. mixed herbs: parsley + basil
Red Veined Sorrel microgreens 
1/4 tsp. red clay salt 
1/4 tsp. fresh cracked pepper
1/2 cup Pastene Italian seasoned breadcrumbs or Panko
zest of one lemon added to the breadcrumbs
3 Tbsp. Extra Virgin Olive Oil 
3 eggs
2 heaping Tbsp. parmigiano cheese mixture
Instructions:
Preheat oven to 425 degrees F.
Drizzle olive oil in breadcrumbs and zest of one lemon, and the mixed herbs.
Toss with a fork until crumbs are well moistened.
Season fish with red clay salt and fresh cracked black pepper.
Bathe fillet in egg and parmigiano mixture.
Whisk well and let fillet bathe for a few minutes.
Press the fish into the crumb mixture until evenly coated.
Place the fillet on a parchment paper on baking sheet.
Sprinkle the remaining crumbs over the fillets to form a thick crust.
Bake for 25 minutes.
Broil for 2-3 additional minutes until the topping is crisp and browned and the fish is cooked through.
Top fillet with red veined sorrel microgreens.
Enjoy!
This recipe is created and used with permission by Rosa Basile-Marrello.