Wild Pacific Sockeye Salmon Recipe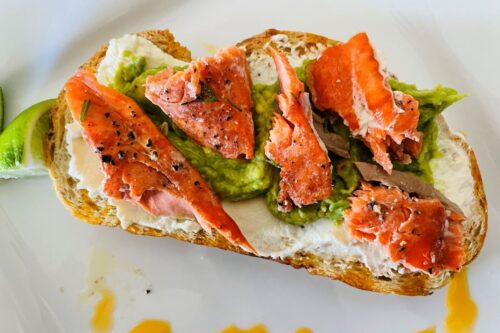 This Wild Pacific Sockeye Salmon with Peperoncino Garlic & Dill Infused Olive Oil makes for a delicious appetizer or meal. For the nights when you are craving something flavourful and light, but want to keep things quick and simple with healthiness in mind, this recipe is for you.
Have you ever had a SEAcuterie board?
Recipe
Ingredients:
cucumber slices
red onion
capers
Arla cream cheese
Dill Infused olive oil  
Peperoncino Garlic olive oil 
rye bread slices
avocado
lime
red clay sea salt  and black pepper to taste
Tokyo Bekana microgreens
fresh dill
Instructions:
Season Wild Pacific sockeye salmon fillet with red clay salt and black pepper. Bake at 275° F for 15-18 minutes.
Bake at 275° F for 15-18 minutes. on a baking sheet. If you have a cedar plank this would be optimal.
While salmon is baking prepare the grazing board.
Add capers, thinly sliced cucumber, red onion, mashed avocado with lime juice and sea salt to the board.
Also add Arla cream cheese, as well as Peperoncino Garlic and Dill Infused olive oils.
On a slice of toasted rye bread drizzle Peperoncino Garlic oil.
Spread cream cheese.
Layer mashed avocado.
Add baked flaked salmon.
Pile on all the ingredients you desire.
Lastly drizzle Dill Infused olive oil.
Top with Tokyo Bekana microgreens.
Garnish with fresh dill.
Absolutely a burst of flavours in every bite. Enjoy!
This recipe is created and used with permission by Rosa Basile-Marrello.