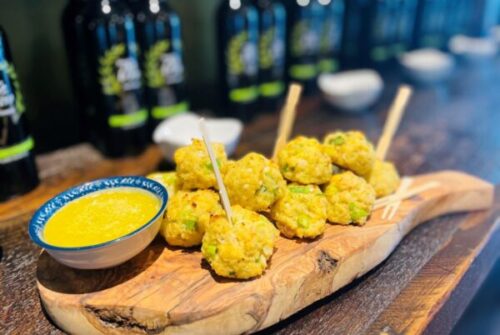 These quick and easy cod fish bites are fun appetizers or they make a great main course. If you'd rather not use cod you can make them with your favourite whitefish instead.
Pair them with homemade garlic aioli sauce to really take this recipe to a new level.
Recipe
Ingredients:
2 lb. cooked Pacific Cod 
1 cup Panko bread crumbs
2 eggs 
2 garlic cloves minced
1/4 cup thinly sliced green onion 
1 Tbsp. lemon
1/2 tsp. coarse lemon dill sea salt 
1/4 tsp. black pepper 
3 Tbsp. Lemon Infused Olive oil 
Instructions:
Place ingredients in a large mixing bowl.
Stir the ingredients together with a fork.
Break apart the fish, until evenly combined.
Portion mixture into small bite size.
Coat the bottom of a large skillet with a fresh harvest Arbequina olive oil.
Cook cod cakes 3 minutes or until golden brown.
OR
Bake in the oven at 400F for 15 minutes.
*TIP* - use a mortar and pestle to crush garlic and sea salt before adding to mixture.  Brings out intense flavour. An air fryer is also a great option if you have one in the kitchen.
Garlic Aioli
This Homemade Garlic Aioli recipe blends together with just a few simple ingredients to give you the perfect condiment. This creamy, dreamy aioli recipe is sure to be your new go-to sauce! Use as a sandwich or burger spread or for dipping veggies or fries in! So good in so many ways.  We use this to dip the cod fish bites.
Ingredients:
1 whole egg
1 egg yolk 
1 tbsp. Dijon mustard
1 tbsp. lemon juice fresh
1 tsp. lemon dill sea salt 
2 garlic cloves small, peeled (you can put them in whole or roughly chopped)
1 cup lemon infused olive oil 
Instructions:
Place egg, egg yolk, mustard, lemon juice, salt and garlic in a food processor or an immersion hand blender.
Pulse the blender to mix the eggs and combine them with mustard and lemon juice and also to start breaking down the garlic.
Slowly add the oil to allow the emulsification process to take place.
Occasionally, lift the blender out of the mixture to allow some air to be mixed in.
Continue blending. You should notice that the aioli starts to emulsify and thicken.
Keep blending until it has become thick and emulsified to your preference.
If you prefer a lighter texture, simply add more oil.
Store in an airtight container in the fridge until ready to use.
This recipe is created and used with permission by Rosa Basile-Marrello