Air Fryer Chinese Salt and Pepper Shrimp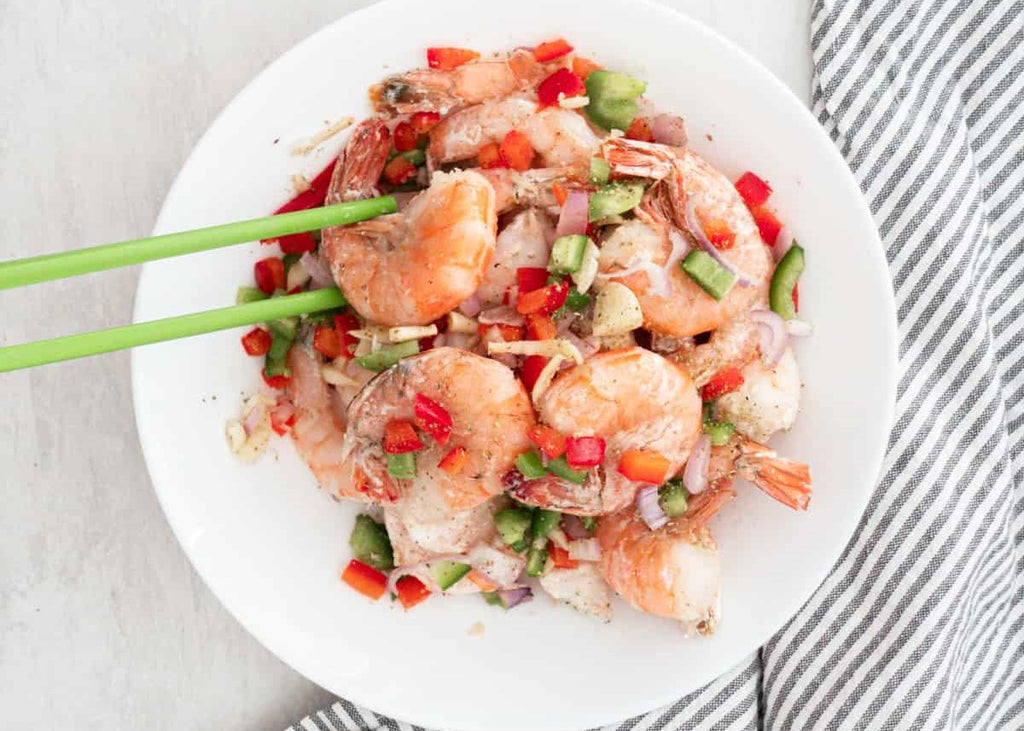 Chinese Salt and Pepper Shrimp is an addictive and delicious dish in Cantonese cuisine. Light, airy and non-greasy crispy prawns make this a perfect keto snack in Chinese restaurants. Make this air fryer appetizer at home in just 15 minutes!
Recipe
Ingredients:
Corn Starch, Rice Flour or Potato Flour
Garlic cloves minced
Ground White Pepper
Green Peppers or Red Bell Peppers
Jalapeno Peppers or Red Chili 
Shallots or Yellow Onion
Peppers Flakes
Sea Salt
Green Spring Onions for garnish
Cilantro for garnish
Vegetable Oil or Cooking Spray for air frying 
Instructions:
If using frozen shrimp, defrost shrimp overnight in the refrigerator. Wash the shrimp under cold water and pat dry with a kitchen paper towel.
Season shrimp or prawns with ground white pepper and salt.
Prepare salt and pepper mixture by dicing jalapeno peppers, red bell peppers, shallots or onions and mince garlic cloves. 
Add diced vegetables and aromatics, salt and ground white pepper to a small bowl. Mix well. Set aside.
Preheat air fryer to 400°F.
Use air fryer parchment paper and line the bottom of the air fryer basket for easy clean-ups. 
In a large bowl, add shrimp and corn starch, rice flour or potato starch and toss until evenly coated. 
Place shrimp in the air fryer basket. Spray with cooking spray.
Cook for 7 minutes at 350F. Flipping halfway.
Carefully transfer prawns from the air fryer. Add cooked prawns and salt and pepper mixture to a large bowl. Toss and mix well.
Return the seasoned shrimp to the air fryer and cook at 390F for a further minute or until the crispy prawns are golden brown.
Work in small batches ex. half of the shrimp and repeat the process if you are making a large double batch!
Serve and enjoy!
Recipe created and used with permission by Nancy Wu at www.nomss.com