Vietnamese Ocean Shrimp Salad Roll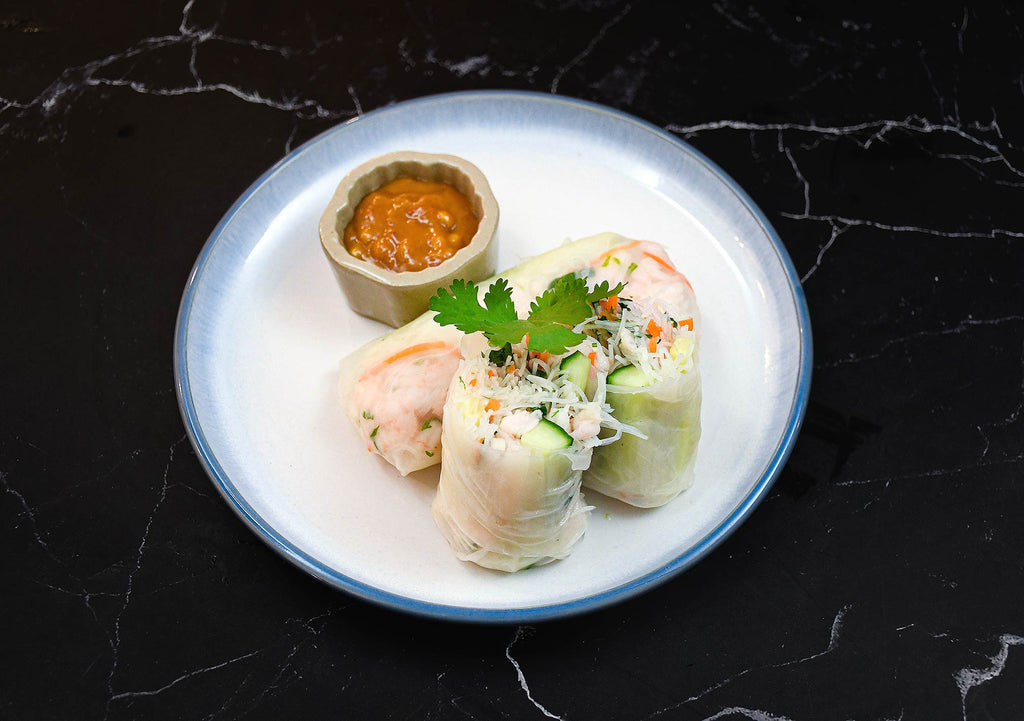 Cool off with this refreshing and easy recipe using pre-cooked pink ocean shrimp. Sweet to taste and unique texture, this shrimp rice roll recipe is sure to be a hit with your family and friends! This recipe includes a no-cook delicious spicy peanut sauce.
Recipe:
For wrapping:
For the filling
230 grams 8 ounces cooked pink shrimp


.5 litre 2 cups cooked rice noodles


60 ml 1/4 cup nuoc cham ( Vietnamese dipping sauce)


1 lime, zest and juice


60 grams 2 ounces carrot, julienne


60 grams 2 ounces dikon radish, julienne


60 grams 2 ounces cucumber, julienne


cilantro to taste


chopped kale, (optional)
No cook peanut sauce
120 ml 1/2 cup natural peanut butter, (natural no sugar added)


15 ml 1 tablespoon sweet soy sauce ( kecap manis )


15 ml 1 tablespoon hoisin sauce


15 ml 1 tablespoon sweet chilli sauce ( Thai cock brand)


15 ml 1 tablespoon toasted sesame seed oil


10 ml 2 teaspoons sambal oelek


Method:
For the dipping sauce:
Whisk together the peanut butter, sweet soy, hoisin, sweet chilli sauce, sesame seed oil and the sambal oelek. Leave it at room temperature until needed.
For the filling:
Place the shrimp, rice noodles, nuoc cham, lime juice and zest, carrots, dikon, cucumber and cilantro into a large mixing bowl. Toss gently until the ingredients are well distributed with the rice noodles.
Let it sit for 30 minutes in the fridge before wrapping in the rice paper.