Sockeye Salmon Poached in Macro Kelp Miso Broth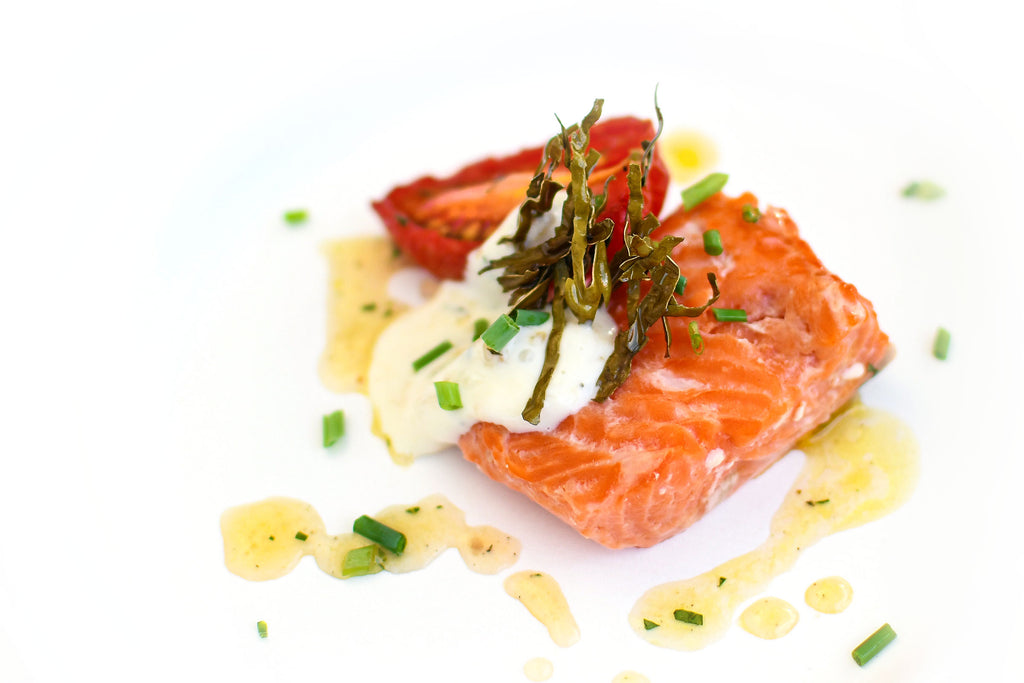 Recipe for Sockeye Salmon Poached in Macro Kelp Miso Broth, With Preserved Lemon Aioli
Sockeye Salmon is undoubtedly one of the tastiest species of salmon to poach because of its richness in flavour, and furthermore, poaching is very easy to do! Try out this recipe with an exquisite umami flavour and treat your family and friends.

Recipe:
The Salmon
Poached Sockeye Salmon Ingredients:
4 x 5oz portions of sockeye Salmon
4 cups of Miso Broth (see recipe)
Preserved Lemon Aioli (see recipe)
 
Poached Sockeye Salmon
 

Method:
Heat Kelp and Miso broth to a low simmer
Season salmon with salt and gently lower into simmering liquid (liquid should just cover fish).
Ensure broth is still at a very gentle simmer.
Cover and cook until salmon is opaque throughout, about 4-5 minutes (longer for thicker fillets).
Using a wide slotted spatula, remove salmon from liquid.
Serve with your favourite side dish and a "dollop' of Preserved Lemon Aioli
 The Broth
Ingredients for Macro-Kelp Miso Broth:
4 cups water
1 pkg Macro Kelp
4 Tbsp miso (1 Tbsp for every 1 cup of Water)
1 green onion finely sliced
1 stem Ginger (grated)


Micro-Kelp Miso Both Method:
SLOWLY bring the water, Kelp, Green Onion, and Ginger to a low simmer and cook for about 10 minutes so you can extract as much umami from the seaweed as possible (DO NOT BOIL)
Stir in Miso Paste and remove from the heat.
Allow liquid to cool and then strain through a fine mesh strainer.
This broth can be refrigerated for up to 2 days.
 The Sauce
Preserved Lemon Aioli Sauce Ingredients:
3-4 roasted garlic cloves (or 1 clove raw garlic, finely minced)
1 Tablespoon Salted Lemon & Nori Preserve (or zest and juice of a small lemon)
½ cup mayonnaise
¼ cup plain low-fat yoghurt
1 teaspoon Dijon mustard
 
Preserved Lemon Aioli Sauce Method:
Place all the ingredients into a food processor,
Purée until smooth. The aioli will be thick and creamy with little flecks of yellow from the lemon zest.
Can be refrigerated for up to 5 days
This recipe was featured at the B.C. Wild Salmon Celebration at False Creek served up by Chef Rob Clark and Chef Julian Bond.