Vietnamese Calamari Salad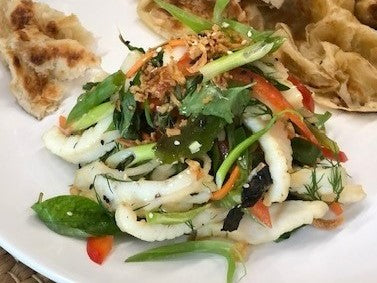 This Vietnamese Calamari Salad or Goi Muc can be served hot or cold.  Great with roti, a bowl of rice or in lettuce cups.
Recipe
Ingredients:
1.5-2 lb  Humboldt squid steaks, sliced into 1/2 inch thick slices, pat dry
1 red pepper, julienne
1 Tbsp canola oil
2 jalapeno, rough chop (optional: char whole, in a dry pan till rich dark brown)
1 cup of each carrot & daikon, shredded
2 cups any mix of herbs (cilantro, dill, mint, rau ram, and/or perilla)
1 Tbsp sesame seeds, lightly toasted in dry pan
2 Tbsp peanuts, toasted & roughly chopped
25 ml Nuoc cham sauce
Optional: 1-2 red thai chili's sliced into small ringettes
Instructions:
1. Make sure squid is dry and not sitting in moisture. Lightly season with salt.
2. In a medium hot sauté pan, add oil to coat bottom of pan. Add the squid into one single layer, cook without disturbing for 1 minute.
3. After 1 min, stir and cook for another 1 minute. Take off heat, and transfer to a plate. Keep warm.
4. In a large bowl, combine all other ingredients, including the Nuoc Cham sauce.
5. Add squid for one final toss.
6. Serve on it's own, with bread, roti, bowl of rice, or lettuce cups. Garnish with sesame seed & peanuts.
Yield: 4 people
Time: 20 min