Tasty Summertime Vietnamese Fish Recipe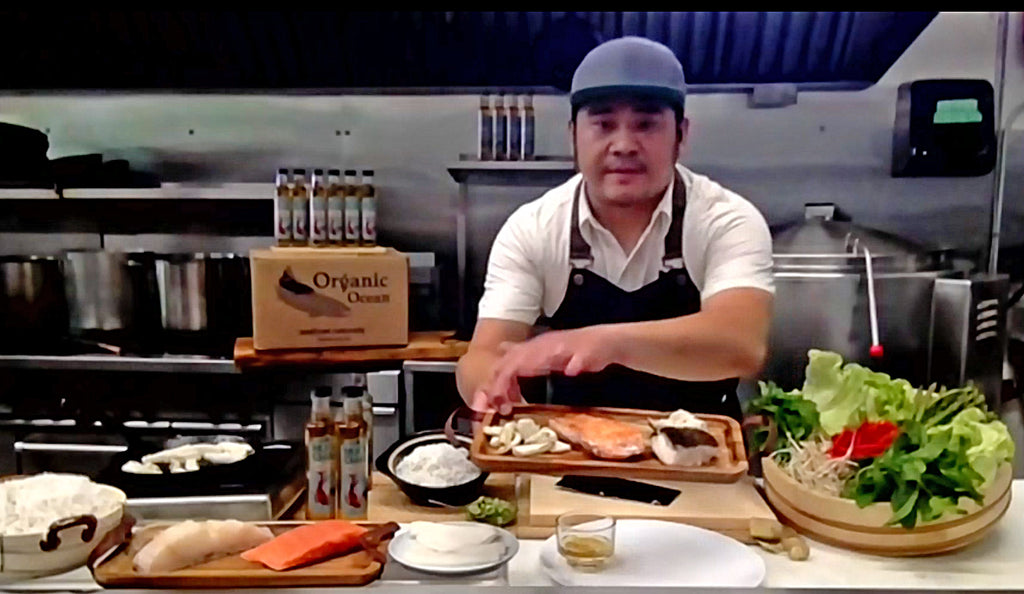 Chef and owner Thompson Tran of the Wooden Boat Food company shares a great summertime Vietnamese-inspired recipe. You'll need:
Vietnamese vermicelli noodles
Fresh herbs, lettuce, beansprouts and chilis
Introduction to Chef Tran's Summer Vietnamese Lettuce Wraps
During the summer, we often default to spot prawns, but Chef Thompson Tran kicks it up with Squid Steaks! And prior to cameras rolling, he prepared a variety of fish for this delicious Vietnamese dish!
General Cooking Instructions:
Start with heating high-smoke point oil in a frying pan, but not too much where it spits and splatters everywhere.
Over high heat, let the oil come up to temp, and cook for about 30-60 seconds, then turn off the stove.
The residual heat will continue to cook the fish without overcooking it.
Please note - you may need to adjust the amount of cooking time depending on your stove and how well your pan holds residual heat.
Assemble Your Herbs:
While the fish continues to cook, you can assemble your bowl of herbs – Vietnamese "lettuce wraps" typically contains cilantro, mint, and bean sprouts.
However, anything goes, and experimentation is encouraged.
Prepare the Nuoc Cham:
The Nuoc Cham is ready to go straight from the bottle. But Chef Tran likes to add some minced ginger because in Vietnamese cuisine it's such a great compliment to seafood.
With white-fish such as ling cod, halibut, squid, etc., it's important you don't overpower its delicate flavours - this is why Chef Tran uses the Nuoc Cham as dipping sauce versus cooking with it.
Fun Fact – "Nuoc Cham" translated to English means "Dipping Sauce"
How to Enjoy this Vietnamese Lettuce Wrap:
Start with a large lettuce cup (alternatively you can also use rice paper for spring rolls)
Add vermicelli noodles
Add your choice of fish
Add your choice of herbs
Wrap it up into a roll, dip and enjoy
This is a fun dish to have on the table with everyone rolling away!