Latkes With Smoked Salmon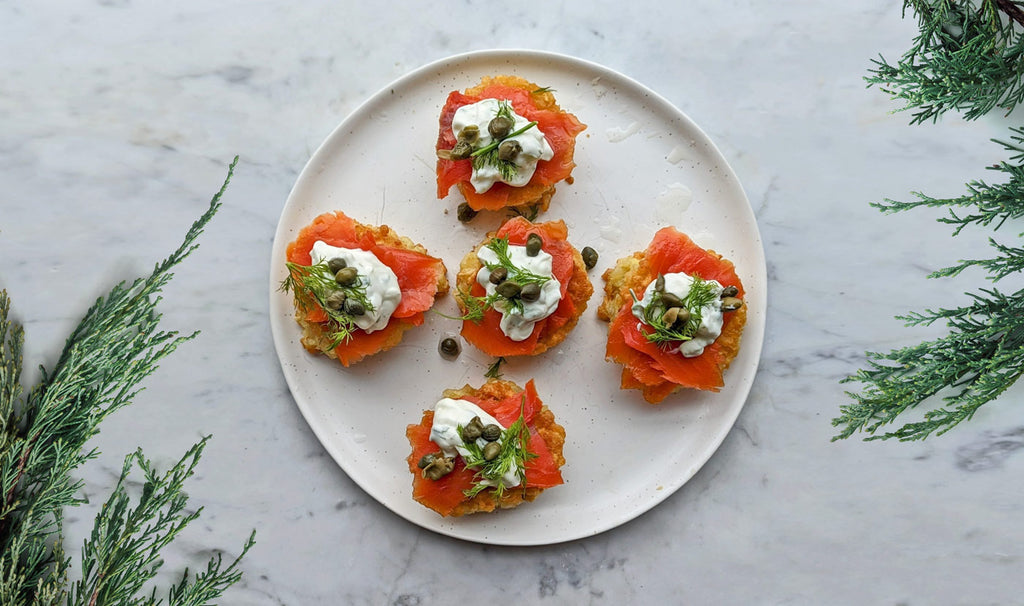 For Hanukkah, latkes and smoked salmon are traditional. However, no matter what festival you are celebrating, these little bites are an easy way to start the party. For the more sophisticated palette you can top them with caviar! This version is made even simpler by using tater tots instead of going through the whole process of grating potatoes. Double up for company as this one only makes about six, and you can't just have one!
Recipe:
Ingredients: 
2 ½ cups thawed tater tots
2 beaten eggs (beat with a fork is fine)
¼ cup vegetable oil
1 tsp finely chopped Fresh Dill (finely chopped)
2 tsp chopped green onion (white part)
50g Sour Cream
Few cranks of fresh pepper
1 tsp capers or go fancy with caviar
1 Lemon slice in quarters for serving
 
Method:
Shred tater tots with your clean hands in a mixing bowl, put in a clean towel and squeeze out all water.

Add back to mixing bowl and add egg and mix completely.

Heat oil in fry pan on medium high

Scoop potato mixture into a ¼ cup measuring spoon and press down to pack mixture

Drop into hot oil and cook for approximately 5 min before flipping with a small spatula. Watch for burning. Mind your heat!

Place 

latkes

 on a paper towel and pat to reduce oil.

Combine sour cream, green onion, dill, and pepper in small bowl.

Layer salmon on top of 

latkes

, top with the sour cream mix, capers, or caviar.
Chef Tips: