Smoked Wild Salmon Orzo Salad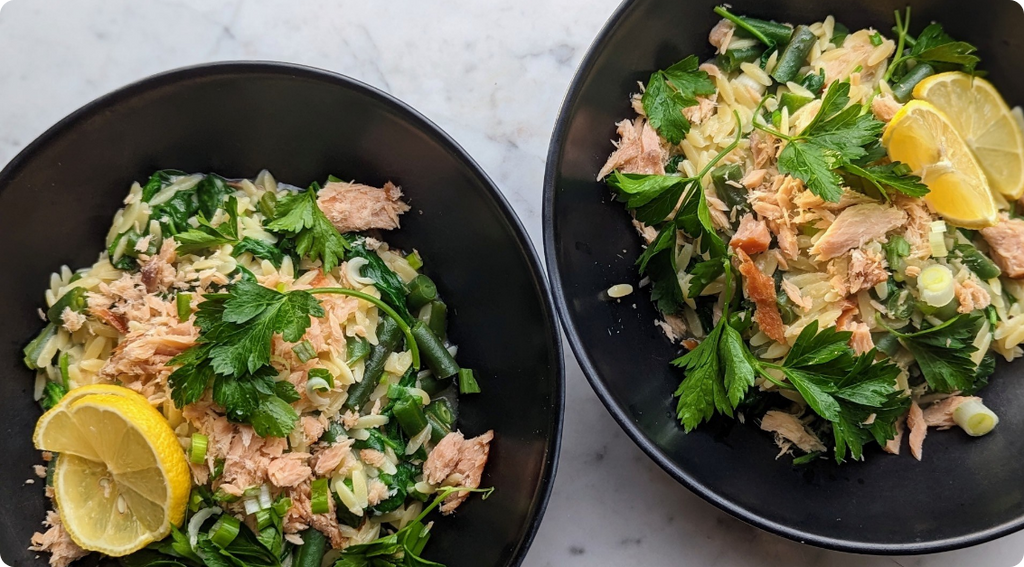 Smoked Wild Salmon Orzo Salad

For a quick, healthy meal use our ready to eat Hot Smoked Wild Spring Salmon  to add deliciously unique protein to a tasty orzo salad. This dish can be enjoyed for lunch or dinner and is quick and easy to prep for family and friends.
RECIPE
Ingredients
•                     2 cup uncooked orzo
•                     2 tbsp vegetable oil
•                     4 cups chicken broth
•                     2 cup green beans chopped into bite-size pieces and cooked to your liking
•                     4 cups fresh baby spinach
•                     2 Tbsp. fresh lemon juice
•                     6 oz. Hot Smoked Wild Salmon
•                     1/2 tsp. black pepper
•                     4 Tbsp. fresh parsley leaves roughly chopped
Method
1. Heat oil in a medium saucepan over medium-high. Add orzo; cook for 2 minutes, stirring frequently. Stir in broth; bring to a boil. Cover, reduce heat, and simmer for 10 to 12 minutes or until broth is mostly absorbed.
2. Remove pan from heat; let stand, covered, for 5 minutes. Stir in spinach, beans, and lemon juice.
4. Flake the Hot Wild Salmon atop the pasta and top with parsley and pepper.