Arctic Char and Quinoa Salad Recipe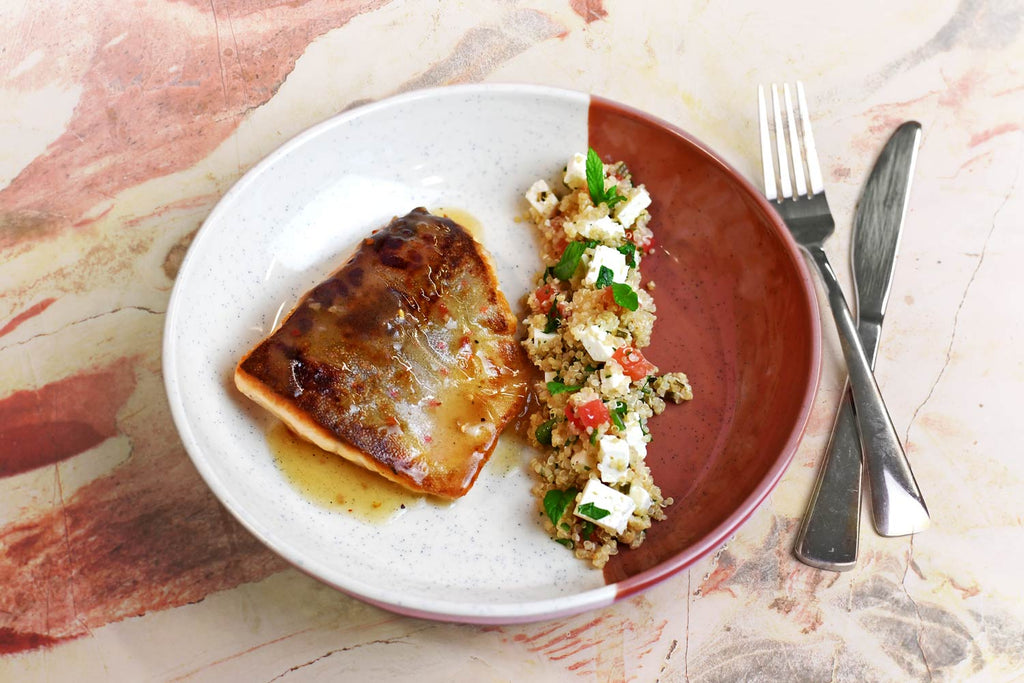 There are few times when we can feel positive about eating something absolutely delicious, this recipe featuring arctic char from chef Julian Bond provides us with hope that eating healthy can also be tasty. With a simple technique for pan frying arctic char paired with a quick to prepare quinoa salad is an easy way to serve up something for everyone in the household to enjoy!
Quinoa  Salad with Feta, Mint and Lemon Recipe
Ingredients
1 cup quinoa 
2 cups vegetable stock (or water)
200ml extra virgin olive oil
1 lemon (juice and zest)
250g feta cheese (Small dice)
4 tomatoes, (seeded and diced)
1 bunch of roughly chopped mint and parsley (to taste) 
Directions
Bring vegetable stock to a boil and quinoa (then lower heat to a simmer), cook for 15 minutes. Turn off heat, cover and let sit for 5 mins.
In a large bowl add olive oil and lemon juice and combine.
Add feta lemon juice and the tomatoes. Season, mix and set aside.
Once the quinoa is cooked, use a fork to fluff up, then add to the dressing bowl, and mix.
Finally add the fresh herbs and taste to season.
Refrigerate for up to 3 days
In a pan on medium-high heat melt two tablespoons of butter and a good drizzle of Olive Oil.

Pat dry the Char and season with flaked Salt.

Once butter is melted, take your arctic char, and lay them skin side down. Cook for about 3 minutes, then flip to skin side up and cook another 2 minutes.

If you wish to baste the skin after flipping you can do so. Remove from the heat and let rest for a couple minutes.