Egg Fried Rice with Canned Sockeye Salmon and Kimchi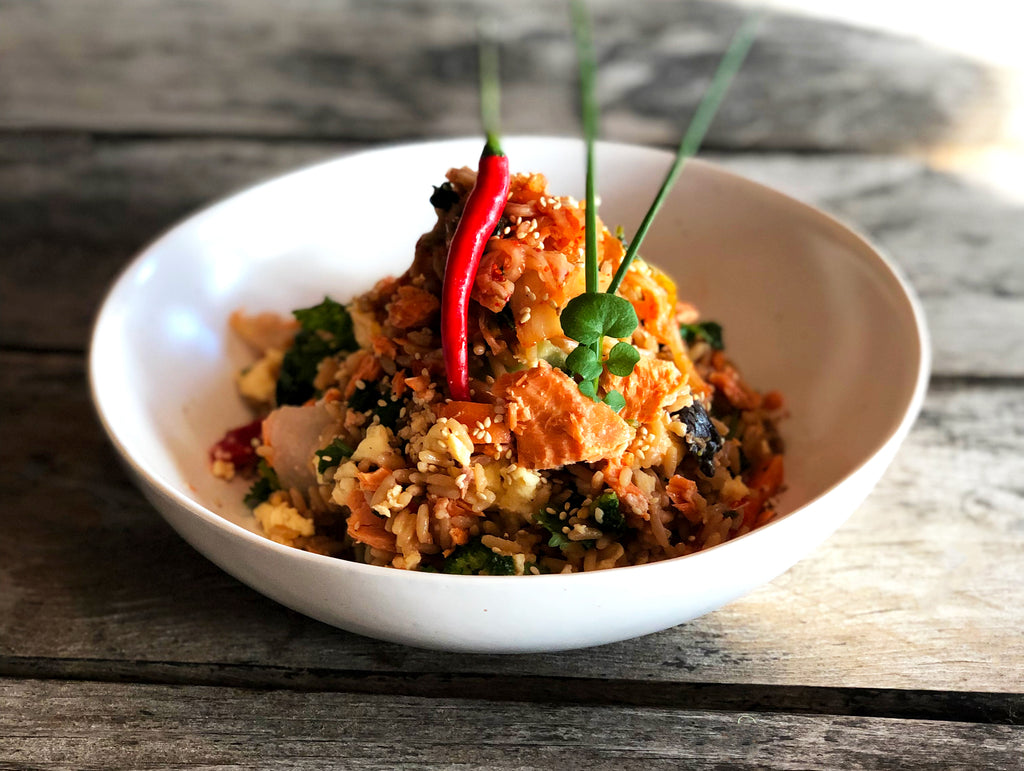 Recipe
Ingredients:
1 can Sockeye Salmon (keep the juice)
3 tbsp soy sauce
2 tsp brown sugar
1 tsp hoisin
1 tbsp sesame oil
1 onion, diced
1 bell pepper, died
¼ cup kimchi (reserve some for garnish)
3 garlic cloves, minced
1 tbsp ginger, grated
3 eggs, beaten
4 cups cooked rice (better as next day leftover rice)
2/3 cup favourite cooked vegetable (carrot, broccoli, peas etc.)
2 green onions
Cilantro (garnish)
Instructions:
In small bowl mix together soy sauce, brown sugar and hoisin. Set aside.
In a large wok or pan on medium heat oil and sauté onion, bell pepper and kimchi until lightly browned 4-5 mins. Add garlic and ginger and lower heat.
Add eggs and stir until cooked. add rice, increase heat and stir often for a couple more minutes.
Add peas, salmon and juice, green onion and soy sauce mixture. Stir often until combined and remove from heat.
Serve and garnish with sesame seeds and top with Kimchi.