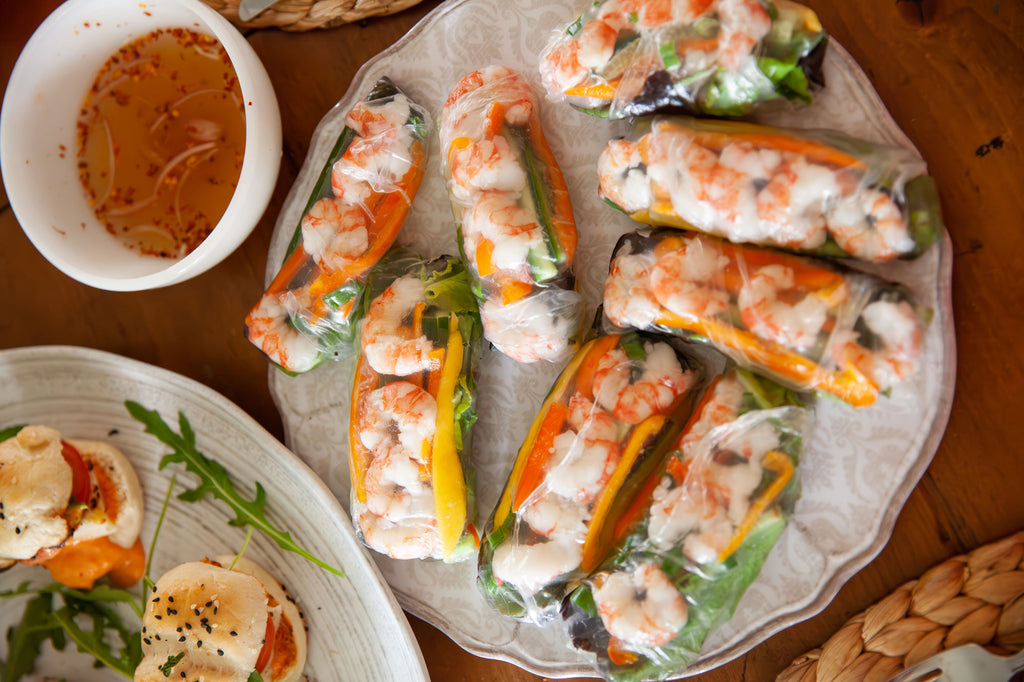 Spot Prawn Salad Rolls
Spot Prawn salad roll wraps are the perfect snack or appetizer and are great for summer parties. The ingredients can be played with, and we encourage you to switch it up. If you don't have mango, use pineapple, or skip the fruit.  Try Thai basil instead of mint and use cooked salmon, or halibut instead of prawns. Serve with a store-bought or dip in some of our poke marinade.
Ingredients
½ pound frozen spot prawns
1 large ripe mango, peeled, pitted, and chopped into 1 inch by 4 inch chunks
Bunch fresh mint
Red pepper chopped into 1 inch by ¼ inch chunks
Torn lettuce – bibb or red leaf is great
Package of 6-inch rice paper rolls
Method:
Thaw spot prawns poach for 1 minute, and then cool immediately in an ice/water bath so they don't overcook!
Prepare a line up of your ingredients to roll
Soften a rice paper by dipping into a pan of water for a few seconds.
Place 4 prawns in the middle of the prepared rice paper, follow by mango, mint leaves, red pepper, and lettuce leaves, using your discretion as to how much of each, but don't overdo or you won't be able to roll!
Fold both sides of rice paper in and roll up bottom away from you into the wrap and turn the seam over. There are some quick videos on line if you need a quick tutorial.
Serve immediately with the peanut sauce.