Mustard Crusted Wild Sockeye Salmon with Zucchini Salad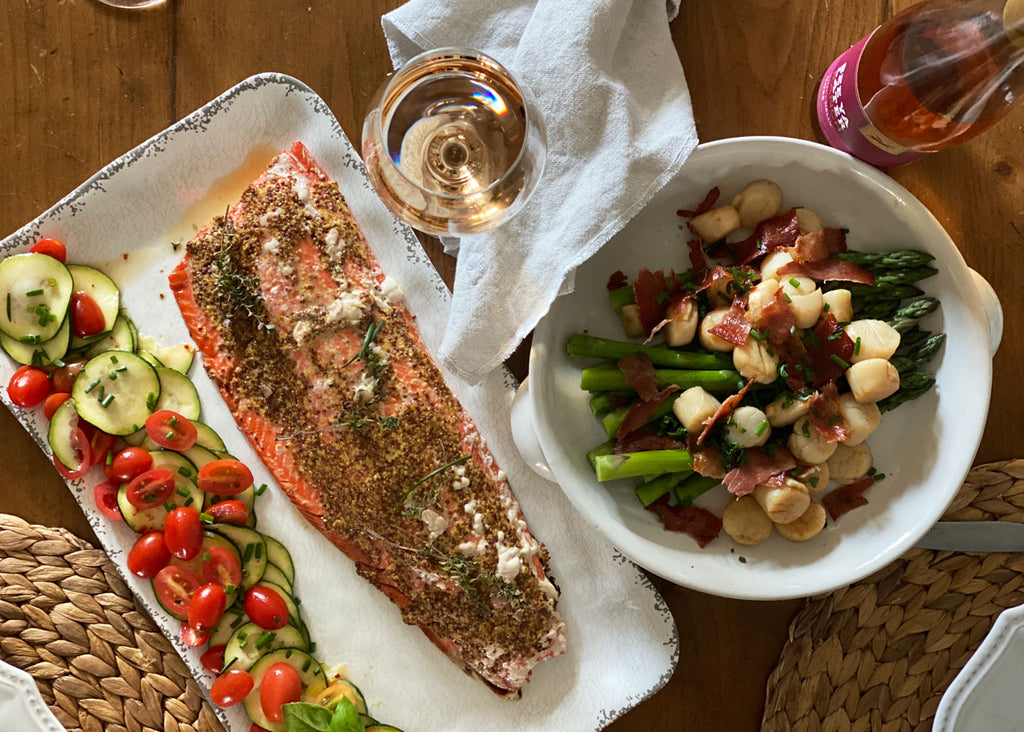 Spoil mum right with a delicious gourmet meal this Mother's Day by treating to her to gourmet sockeye salmon and a side of Hokkaido scallops!
Mustard Crusted Wild Sockeye Salmon with Zucchini Salad
Ingredients:
2 lbs wild sockeye salmon filet
2 Teaspoons Grainy Dijon
3 Cups thinly sliced zucchini
1 Pint cherry tomatoes halved
¼ cup fresh chives minced
¼ cup extra virgin olive oil
1 Tablespoon honey
1 Tablespoon lemon zest
1 Lemon juiced
Kosher salt
Fresh cracked pepper
Preheat oven to 400 degrees.
Line a baking sheet with aluminum foil and spray with a light layer of cooking spray.
Add the salmon filet, skin-side down and coat with Grainy Dijon Mustard Old Style Mustard.
Bake for 20 minutes.
Slice zucchini thinly with a mandolin, half the tomatoes, and chop chives in a large bowl.
Whisk together the olive oil, honey, lemon zest, lemon juice, salt, and pepper in a small bowl.
Toss salad with dressing gently to coat.
Plate sockeye salmon on the side and serve.
Seared Scallops over Asparagus
Ingredients
1lb Spring asparagus (not old pulpy stalks)
1.5 Tablespoons butter
1 Ounce thinly sliced prosciutto, cut into 1/2-inch-wide strips
1 Pound Hokkaido Scallops
1/2 Teaspoon finely grated lemon zest
2 Tablespoons fresh lemon juice
1/4 Cup chicken stock
Salt and freshly ground pepper
Instructions:
Cook the asparagus in boiling water for about 4 minutes. Remove asparagus with tongs and rinse with cold water to stop cooking more. Reserve water to reheat asparagus quickly at end of recipe.
Melt 1 tablespoon of the butter in a large skillet. Add the prosciutto and cook over low heat until crisp, about 4 minutes. Transfer the prosciutto to a plate.
Melt 1 tablespoons of the butter in the skillet. Add the ½ scallops, season with salt and pepper and cook over moderately high heat until browned, about 2 minutes per side. Transfer the scallops to a plate. Repeat.
Add the lemon zest, juice lemon juice, and stock to skillet and simmer for 5 minutes.
Swirl in the remaining 1/2 tablespoon of butter. Season the sauce with salt and pepper.
Return the scallops, along with any juices, to the skillet and cook over low heat until heated through.
Return water from asparagus to boil and dunk stalks in to heat thoroughly.
Using tongs, transfer the asparagus to a large platter and spoon the scallops and sauce over it. Top with the fried prosciutto and serve.