Grilled Haidacore Tuna with Montreal Spice and Salsa Verde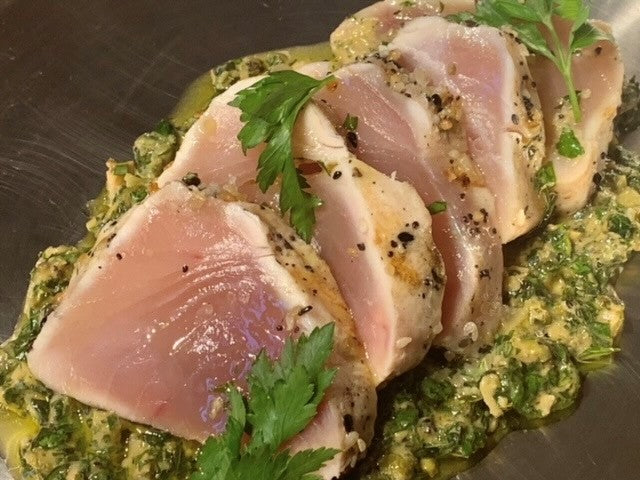 Recipe
Makes 4 servings

Preparation time: 25 minutes

Cooking time: 6 minutes
Grilled Albacore Tuna with Montreal Spice
Salsa Verde
1 small bunch of mint, leaves only 

1 small bunch of Italian parsley, leaves only

1 tablespoon (15ml) of capers

1 clove of garlic

4 anchovy fillets

1 tablespoon (15ml) Dijon mustard

5 large green olives, pitted

100-125ml olive oil 

1 tablespoon (15ml) red wine vinegar

A few turns of black pepper mill
Take the tuna loin out of the fridge. Grind the Montreal spices in a mortar and pestle or spice grinder. Brush the tuna with olive oil and season generously on all sides with the Montreal spices. Let the fish temper at room temperature for 30 minutes. It's important that the fish is room temperature before being put on the grill. Fire the grill to ensure  it is hot when it's time to cook the tuna. 
Meanwhile, prepare the salsa verde. In a small food processor, add the mint, parsley, capers, garlic, anchovies, Dijon mustard, and green olives. Pulse a few times to break everything down. Slowly add the olive oil while pulsing. Once the salsa starts to look like a pesto, add the vinegar and black pepper. You should not need any salt as the capers, anchovies, and olives already provide saltiness. 
Put the tuna loin on the hot surface of your grill and cook for about 2 minutes on each side. In 6 to 8 minutes total, the tuna should have a medium rare doneness. You can cook it longer if that is your preference; but, I personally find tuna very dry if cooked more than that. 
Transfer the fish to a cutting board. Use a sharp knife to cut the tuna into centimetre thick slices. Spread the salsa verde onto a serving plate. You will probably have more salsa verde than you need; but, the salsa will keep for a few days in the fridge and can easily be used for another preparation. Place the tuna slices on top of the salsa verde and squeeze some fresh lemon juice on top to serve.