Adopt Delicious Alternatives to Drive Your Healthy Lifestyle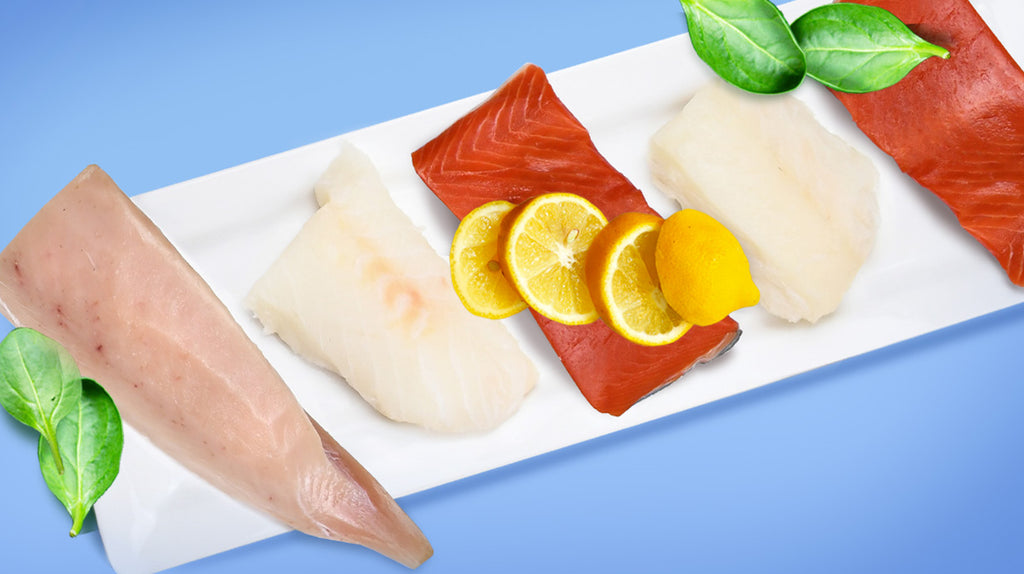 Adopt Delicious Alternatives to Drive Your Healthy Lifestyle
New year, new me! Did you start off the year with a New Year's resolution or two? 
If so, there's a good chance that healthy eating was on your list. After all, a healthy diet, along with more exercise, more sleep, and losing weight, are the top four resolutions come each new year.
In spite of good intentions, however, all too many resolutions fall by the wayside, often picked up again when the next New Year rolls along. But making the move to a healthy diet is something that can be done. 
We're all busy and healthy eating conjures up images of hours spent in the kitchen cooking. And a restrictive diet of less than inspiring meals.
It doesn't have to be that way though. Eating wild-caught fish and using the meal prep ideas and menus from Organic Ocean's leading chefs, you can create restaurant quality meals with  minimum time spent over a hot stove. 
So here are our tips for success in meeting your commitment to a healthier lifestyle.
Adopt Tasty Alternatives to Your Current Diet 
Slowly switch your current selections to healthier alternatives for each food group. Healthy eating doesn't mean consigning yourself to a humdrum diet. Healthy food, as well as being rich in ingredients key to building a better you, can provide a wide range of tastes that will have you looking forward to the next day's meals.
Here's some guidelines that will help you meet your goals:
Protein: wild-caught seafood is a great alternative to red meats. Seafood covers an amazing  range of fish, shellfish, and mollusks. So, you'll be able to enjoy a broad variety of flavours while also feeling good about eating healthy. Below we'll explore why fish is such a healthy alternative.
Vegetables and fruit: over the years, the North American fast food diet has been short of fruit and veggies, and long on fried and simple carbs like potatoes. Again, the variety available throughout the year can power you through breakfast, lunch, and dinner. 
Whole grains: again, the variety of whole grains available to us today offers us tastier and healthier options that will have you wondering why white breads and white rice were staples of our diets for so long. 
Why Is Seafood a Healthy Alternative?
Seafood falls into two groups: 
Fish: both saltwater fish such as salmon (sockeye, coho, chinook, etc.), steelhead, sablefish, tuna (albacore and ahi), halibut, cod,etc.) and freshwater such as trout, arctic char, catfish, pike, etc.
Shellfish: Crustaceans such as shrimp, crab, lobster, prawns, and crayfish and Mollusks such as squid, mussels, and scallops.
If you have eaten some or all of the above, you'll know that each has its own distinct flavour. Whoever invented the saying "variety is the spice of life" might have been thinking of seafood because in the protein world seafood probably comes out on top when measured by diversity of taste. There are so many seafood "flavour" choices that individual preferences of your family can be readily met.
While the wide variety of flavours is a great reason to eat seafood, that doesn't make the case that it is a healthy choice. Choose wild seafood instead of farmed. Why? Because wild seafood offers a wide range of the key nutrients vital to our health. Stronger bones, healthier heart and cardiovascular system, and a more robust immune system are some of the benefits of eating seafood.
Wild-caught fish ingest a more varied diet including things like algae, kelp, seaweed and other smaller fish cohabiting in their aquatic environment. Unsurprisingly this results in wild fish containing higher amounts of several key minerals and vitamins compared to farmed fish.
Studies have shown that eating seafood on a regular basis (two or more times a week) reduces our risk of dying from preventable health-related issues. Fish is high in "good fat", Omega-3 oils and high in both vitamin B12 and vitamin D. In fact, more so than any other food we can eat!
In our next blog we will look more closely at the nutrients available for the more common varieties of seafood popular in Canada. And suggestions on seafood that you may wish to avoid for reasons of sustainability or health concerns. Tip: look for Ocean Wise when selecting seafood, like those offered at Organic Ocean.
Make Meal Prep a Breeze
Seafood is generally quick to prepare and doesn't require a long time to cook (in fact, is most flavourful and moist when cooked less than 15 minutes). Check out our Chef's Tips for both recipes that are easy to prepare and for cooking times.
Organic Ocean offers a wide variety of individually portioned seafood that has been sustainably harvested, filleted, and flash frozen at sea the day it is caught. Flash frozen preserves freshness and taste better than other process methods, making it a choice for many chefs of top restaurants. The other advantage for the home chef is that with a well-stocked freezer will reduce pre-meal grocery store trips.
Healthy Seafood Packs Offer a Chance to Explore Different Flavours
Try something new on your dinner plate. An easy way to try different types of seafood is to order one of Organic Ocean's seafood packs. There are three packs available, designed for different sized families (or for a higher number of meals): the healthy pack 12, healthy pack 24, or healthy pack 48 - which serve up 12, 24, 48 individual servings. 
Enjoy the Journey
Introducing a wider variety of seafood into your diet can get you started on the healthier lifestyle you committed to at the start of the New Year. And the range of tastes available in exploring a wider range of seafood products will help build commitment to your journey. Have some fun with it as well, push the envelope and try something different than you'll find in most supermarket seafood offerings. 
Share your experience, new recipes, and tips among your networks and challenge friends to join in. Getting a buddy involved will make it more exciting as you share recipes and tips, and motivate each other. 
You can use #organicoceanmoments or tag @organicoceanseafood on your posts so your friends as well as us can follow your journey.
You never know … this year could mean you'll have to find a new resolution for 2024!

Buying wild caught seafood online has never been easier. Explore our wide variety of healthy, sustainable seafood options and get it delivered next day!