Make Premium Seafood the Star of Your New Year's Dinner | Organic Ocean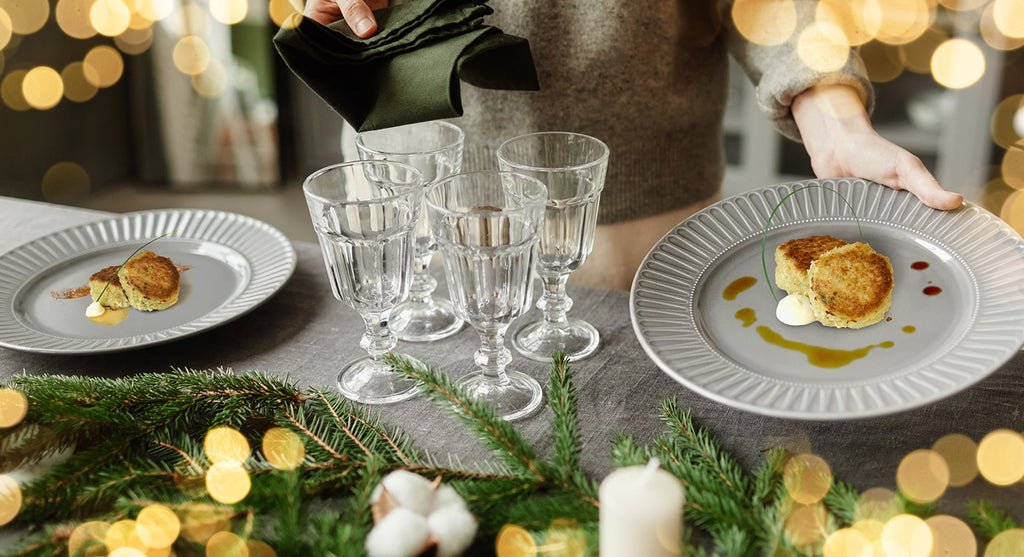 Make Premium Wild-Caught Seafood the Star of New Year's Dinner
Make this New Year's Dinner one your family and/or guests will still be talking about well into 2023 with wild-caught seafood creations from our award-winning chefs. 
Is there a better way to welcome the New Year than with a dinner that'll get those around your table singing your praises? 
The suggestions we made for Holiday appies and dinners are a great starting point for the New Year's meal. 
If, however, you have a little more time on your hands than you had when preparing the big Christmas meal, you may want to try your hand at some of the incredible dishes you can create with the recipes on our site from our team of awarding winning chefs.
Our Team of Chefs
Our team of chefs is led by Rob Clark, Organic Ocean's Chief Culinary Officer (CCO). His long-term contribution to the sustainability of our fisheries was recognized when he was awarded the Order of Canada in 2020. 
Rob was one of the founders of the Ocean Wise seafood program and has been an inspiration to the many, many chefs and restaurants who have adopted and shared his commitment to sustainable, wild-caught seafood.
Organic Ocean is proud to introduce our team of chefs, and feature some of the recipes they have contributed. We'd like to say we're lucky to have the team we have, but they'll be the first to point out that they joined because of our commitment to sustainability, to fair practices for all those in our industry who share that commitment, and to premium seafood of the highest quality.
Who Buys Our Premium Wild Seafood
Organic Ocean has two principal groups of customers. First, the high-end restaurants we initially catered to with wild seafood products that met their demanding standards for the "best of the best". And second, the individual consumers who have come to appreciate the quality of the seafood we offer online in Canada (BC through to PQ). 
There are dozens of recipes on our site (so check back frequently for new additions). 
Selected Recipes from Our Award-Winning Chefs:
Our selected recipes include selections of the fine seafood available online on our site, including lobster, albacore tuna, Hokkaido scallops, shrimp, and spot prawns. 
Shrimp Crostini: A great summer dish from Chef Robert Clark that will be a favorite addition to your appetizer spread. Use mini, bite-size crostinis.
 Scallop Carpaccio with Wasabi Ginger Lime Dressing: Ready in 5 minutes, Chef Nancy Wu's Scallop Carpaccio is guaranteed to be a dish that pleases.
Jerk Lobster: Put a little "zing" in your lobster with this delicious recipe from Chef Jae-Anthony Dougan.  
Cedar Wrapped Albacore Tuna with Macro Kelp: Chef Julian Bond's quick and wonderfully simple recipe using Cedar Wraps, Macro Kelp, and Haidacore Tuna.
 Spot Prawn Bisque: Chef Robert Clark's restaurant quality bisque you can create at home using our Organic Ocean Spot Prawn Umami Bisque.
 Easy Gluten-Free Calamari Tempura: Chef Robert Clark's simple, easy gluten-free calamari tempura using Humboldt Squid and Good Flour Co Tempura Batter Mix.
Sockeye Salmon Poached in Macro Kelp Miso Broth : Chef Julian Bond suggests a recipe that combines the rich flavour of sockeye salmon with poaching which is easy to do. 
The lobster, albacore tuna, Hokkaido scallops, shrimp, spot prawn bisque, and sockeye salmon for these recipes are, like all Organic Ocean's seafood, available on its online store and are delivered to your door within two days, again to most major locations in BC east to PQ.
Why Seafood for Holiday & New Year's Dinners?
There are many great reasons to serve seafood for one or more of your Holiday dinners. We're not counting but…
Seafood is good for you! Most seafood is high in Omega-3 oils and essential minerals. It is recommended as a central pillar in leading a healthy lifestyle.

Seafood has a tremendous range of flavours, and unless it is of poor quality or past its prime it does not (as many think) smell "fishy". But the rich range of flavours can be a welcome change from so many mass-produced meat products that have had the "flavour" processed out of them.

Our go-to holiday meal is often a turkey. In many parts of the country this holiday season, turkeys are in short supply or unavailable. This is a great time to include seafood in your holiday meal.

The same premium seafood that is served in high-end restaurants across North America is the same product available to you to purchase online at Organic Ocean.
Highest Delivery Options and Standards
Organic Ocean online wild-caught seafood uses its proprietary processing to deliver seafood online in Vancouver, Calgary, Edmonton, and points east including Toronto and Montreal. Check out our site for the many other centers we deliver to across Canada. 
For a complete list of locations, Organic Ocean delivers across Canada. No corners are cut in the processing and delivery of our seafood and your order so we can meet our goal of providing you with the highest quality seafood. Delivery costs are scaled based on what our partners charge us but we waive all delivery charges on orders of $250 or more. 
Happy New Year to Seafood Lovers Everywhere
All the team at
Organic Ocean
would like to wish all our customers and everyone visiting our site a very happy 2023. We look forward to serving you and promoting the cause of sustainable seafood in the coming year. Our team of chefs would like to call out all those who have tried and enjoyed some of the fine recipes they've contributed to the Organic Ocean site. A Happy and Fish-Filled Year to all in 2023.