Wild Pacific Halibut Cakes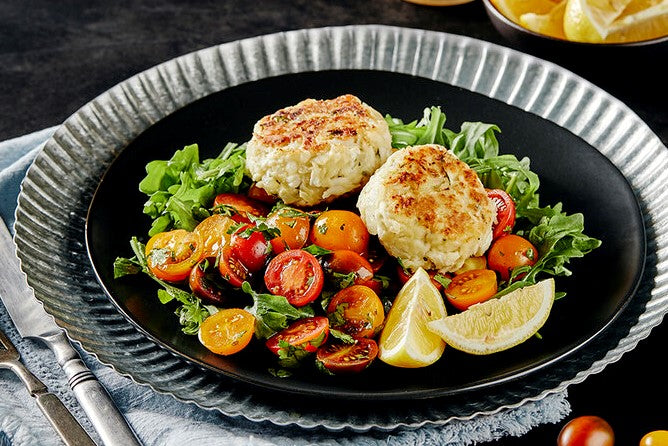 Recipe
Ingredients:
500 grams - Wild Pacific Halibut

salted water (enough cold water to cover Wild Pacific Halibut completely mixed with 1 tsp salt)

2 - large potatoes, Kennebec or Yukon Gold

1  medium - onion, diced

1 tbsp. - butter

2 Tbsp. - sour cream

1 Tbsp.- chopped fresh tarragon

1 lemon - zest and juice

1 tsp. - Sriracha or other hot sauce

1 pinch - ground nutmeg

1 Tbsp. - Dijon mustard

salt and pepper, to taste

flour

vegetable oil for frying
Instructions
Preheat oven to 400° F.

Cook the Wild Pacific Halibut by placing the fish in a shallow pan, covering with salted water, and bringing it up to a simmer over high heat. Turn off the heat and let it poach gently for a couple of minutes. Drain and allow the halibut to cool. 

Wrap the potatoes in aluminum foil and bake in the preheated oven for 40 minutes or until soft. 

Remove the potatoes from the foil, and cut each in half to allow the steam to escape. When they are still very hot remove the flesh from the skins and rice or mash. Set aside in a large bowl to cool. 

In a frypan over medium heat, sauté the diced onion with the butter until translucent, pour the onions and butter over the mashed, still warm potatoes. 

When the potatoes and onions are cooler but still warm, add the halibut, sour cream, tarragon, lemon zest and juice, hot sauce, nutmeg, mustard and seasonings.

Gently mix by hand until the mixture comes together well. Form into cakes about 100 grams each, and place onto a tray of flour and coat both sides of the cakes well with flour. 

Add vegetable oil to a frypan and over medium heat, fry the halibut cakes until they are golden brown on both sides, about 2 to 3 minutes per side.

Serve with a fresh arugula salad.
Makes 6 Wild Pacific Halibut cakes that will serve 6 people as an appetizer or 3 people as an entrée.
Featured with permission from PHMA and Wild Pacific Halibut.