Vietnamese Summer Squid Wraps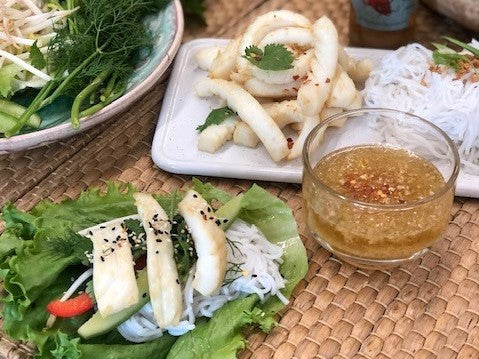 These Vietnamese Summer Squid Wraps (called Goi Cuon) are a refreshing and delicious summer time dish.  Have fun and create a build your own rice paper wrap adventure during your next family gathering.
Recipe
Ingredients:
1.5-2 lbs Humboldt squid steaks sliced into 1/2 inch thick slices, pat dry
1 Tbsp canola oil
4 cups cooked rice noodles (vermicelli)
1/2 cucumber, cut into strips
1 cup bean sprouts
1 cup of each carrot & daikon, shredded
2 cups any mix of herbs (cilantro, dill, mint, rau ram, and/or perilla)
1 pkg rice paper
1/2 head leaf lettuce, washed (red, romaine, butter, or iceberg all work)
125 ml Nuoc Cham sauce
Instructions:
Thaw squid in refrigerator over night.  Once thawed, pat squid dry and make sure it's not sitting in moisture. Lightly season with salt.
In a medium hot saute pan, add oil to coat bottom of pan. Add the squid into one single layer, cook without disturbing for 1 minute
After 1 min, stir and cook for another 1 minute. Take off heat, and transfer to a plate. Keep warm.
On 1-2 larger platters, layout all ingredients by vegetable items, put vermicelli noodles into a bowl in the center of the platter(s) and put on the dining table
Everyone should have a small sauce bowl of 50ml of Nuoc Cham, and one large plate
Place 1 large bowl of warm water for dipping rice paper into on table.
Moisten the rice paper, shake off excess water. place on the plate. Add a little of lettuce and vermicelli in the center, top with herbs, veggies and squid as you like. Wrap sides in, roll forward tightly.
Dip rice wraps into Nuoc Cham for each bite.
Yum! 
Yield: 4 people
Time: 20 min