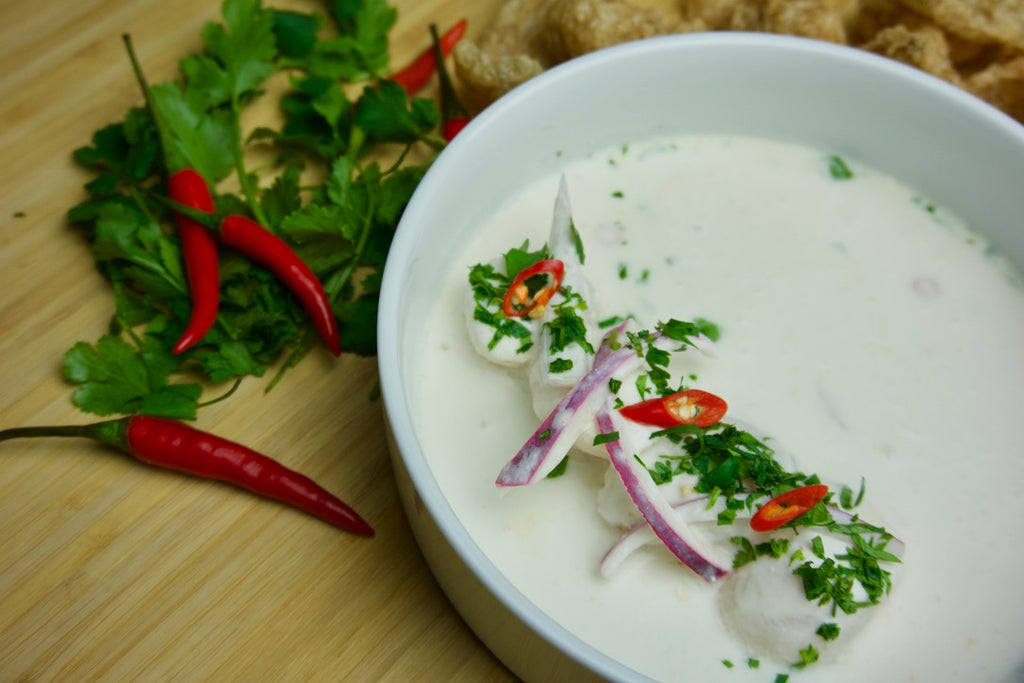 Kinilaw is a raw seafood dish native to the Philippines.  Like Central American ceviche, this delicious preparation method enhances the wonderful flavours of our seafood.   While you can use many types of firm fleshed fish, we love Chef Andrea Alridge's recipe using our Sweet and Delicate Hokkaido Scallops.
Recipe
Ingredients:
1/2 lb firm fleshed fish OR Scallops
5 tbsp Calamansi juice or lime juice
5 tbsp grated ginger
1/4 small sliced red onion
3/4 cup coconut vinegar or white vinegar
1/3 cup coconut cream
3 tbsp chopped fresh cilantro leaves for garnishing
4 Thai chilis, chopped
Instructions:
Cut the fillets into 1 inch cubes. Place in a bowl and season with salt and pepper.
Add 3/4 cup vinegar and refrigerate for 10 minutes.
Drain the vinegar gently. Return fish to the bowl.
Add red onion, ginger, lime juice and coconut cream. Refrigerate for 30-60 minutes. The longer you marinate it the more firm the flesh will be.
Garnish with cilantro and chili pepper. Serve with chicharron.
Hint: For firm fleshed fish consider using Halibut, Pacific Cod or Lingcod.