Roasted Celeriac Root and Seared Scallop Soup with Christmas Stuffing Croutons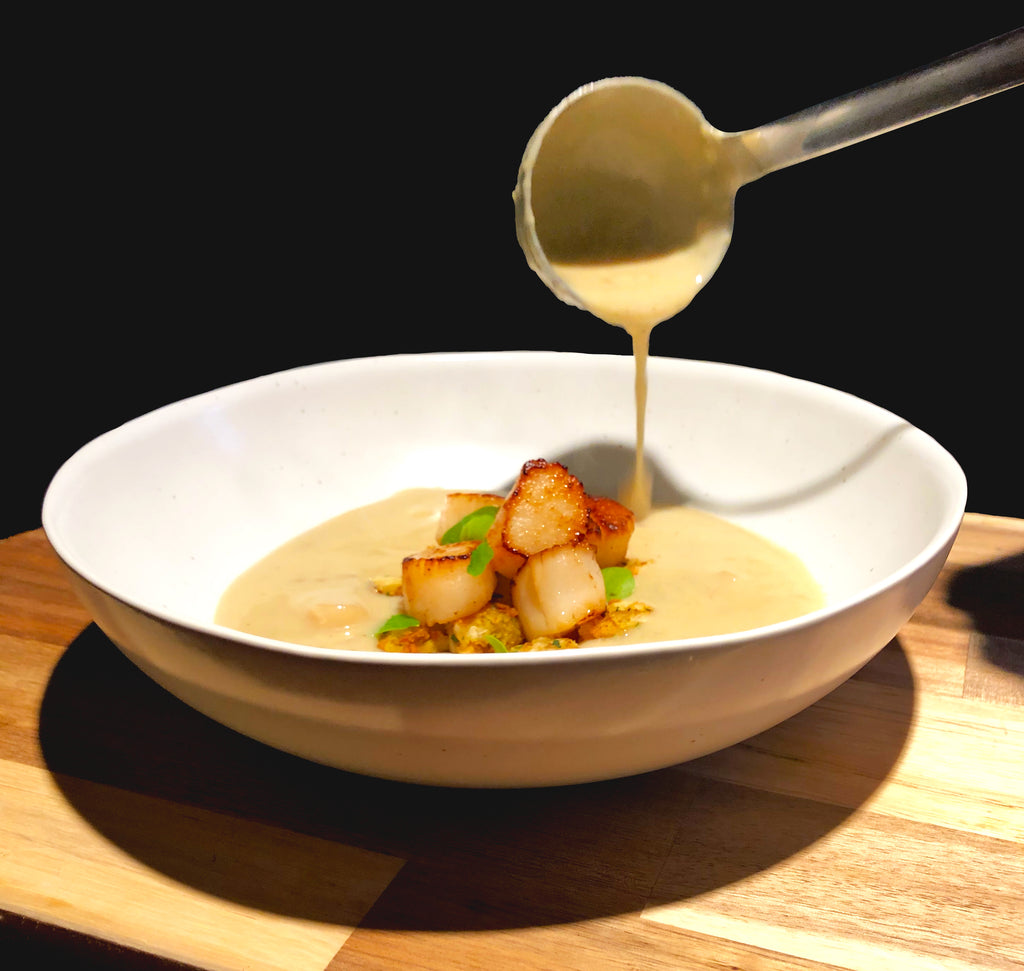 Recipe
Ingredients:
Pan Seared Scallops:
½ lb scallops
1 tbsp olive oil
2 tbsp butter
Salt, pepper (season as needed)
Celeriac Soup:
2 tbsp butter
2 tbsp olive oil
2 leeks, chopped
2 garlic cloves
1 large celeriac root (celery root), peeled and cubed
2 potatoes, peeled and cubed
1 diced onion
3 cups water
2 cups clam nectar (substitute: chicken stock)
1 cup cream
2 tsp salt (season as needed)
Freshly ground pepper
Croutons:
Stove Top Christmas Stuffing Mix
1 egg
Instructions:
Celeriac Soup:
Melt butter in a large pot over medium heat and add olive oil. Add onion, garlic and leek. Slowly Sautee until onion is soft and starting to golden.
Add celeriac, potatoes, water and stock. Bring to boil, then reduce to slow simmer with pot lid closed, until celeriac root is soft (about 40mins). Season with salt and pepper.
Add cream, simmer till combined.
Blend until partially smooth… lumps are ok! (method of choice: blend in batches, stick blender, etc.)
Adjust seasoning to taste
Garnish with seared Scallops, Croutons and drizzle with olive oil
Pan Seared Scallops:
Pat scallops dry with paper towel. Remove Connective tissue and Season with salt and pepper.
Preheat hot skillet. Add olive oil, then place scallops (giving room between them on pan)
Sear scallops for 90 SECONDS on one side. Do not touch or move scallops.
Flip scallops with tongs and add butter to pan. Scallops should be golden on one side. Cook for 1 minute and baste scallops with butter.
Remove from pan and serve.
Optional Croutons: before making soup, make Christmas stuffing per instructions on your favourite packaged stuffing, adding an egg. Prepare a shallow container with cling wrap covering the bottom and sides. Push the stuffing firmly into the shallow container and store in fridge until firm. Cut into bite sized cubes. Bake at 350 for 15 mins.