Ravioli of Spot Prawn and Buttered Leek with Smashed Minted Peas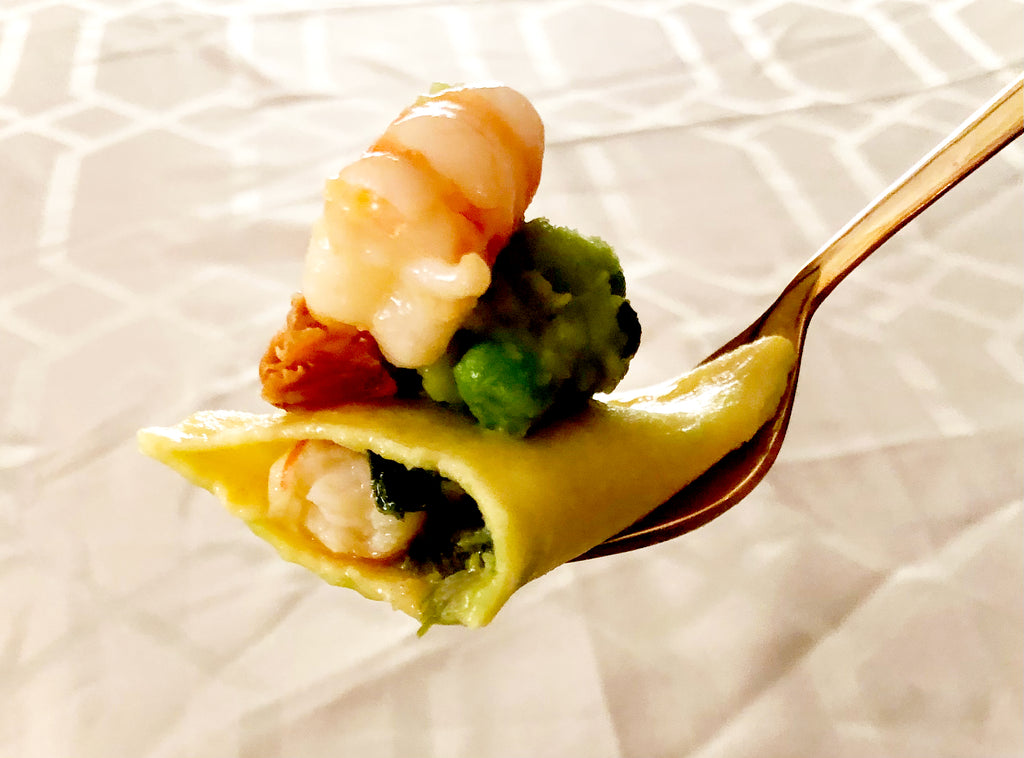 Recipe
Ingredients:
Ravioli:
500g (2 cups) all-purpose flour
3 eggs
3 egg yolks
1 tbsp olive oil
½ tbsp salt
Filling:
1 lb. Spot Prawn Tails
2 leeks, sliced
2 tbsp butter
½ cup white wine
½ tsp salt, pepper
½ tsp lemon zest
¼ tsp chilli flakes
Smash Minted peas:
2 tbsp butter
2/3 cup vegetable or chicken stock
1 ½ cup frozen peas
2/3 cup mint leaves, roughly chopped
1 shallot, diced
Instructions:
Ravioli:
Place, flour, eggs and salt in food processor. Blend on pulse setting until dough forms. Flour a clean, flat surface and knead until smooth. Cover in cling wrap and rest for 20mins
Peel Spot Prawns ready for filling.
Melt butter in a large pot on medium heat. Add sliced leeks, salt, pepper, lemon zest, chilli flakes and white wine. Sauté leeks and reduce white wine, until leeks are soft and tender and wine is reduced.
Roll out pasta dough 2cm thick. Using 4-inch metal cutter, cut discs of pasta dough out and move to floured surface. Spoon leek filling into pasta disc and place one prawn in each. Dampen edges of the dough using cold water and pastry brush. Fold over and into a half crescent shape. Seal the edges by pressing with fork.
Bring pot of salted to boil. Drop ravioli and cook for 4 mins. Avoid over-crowding (cook in batches).
Smash Minted Peas:
Melt butter in small sauce pan over medium heat. Sautee shallot until soft. Add peas, stock and simmer for 10mins. Peas should be soft.
Puree or roughly mash peas. Stir in mint leaves and season to taste.