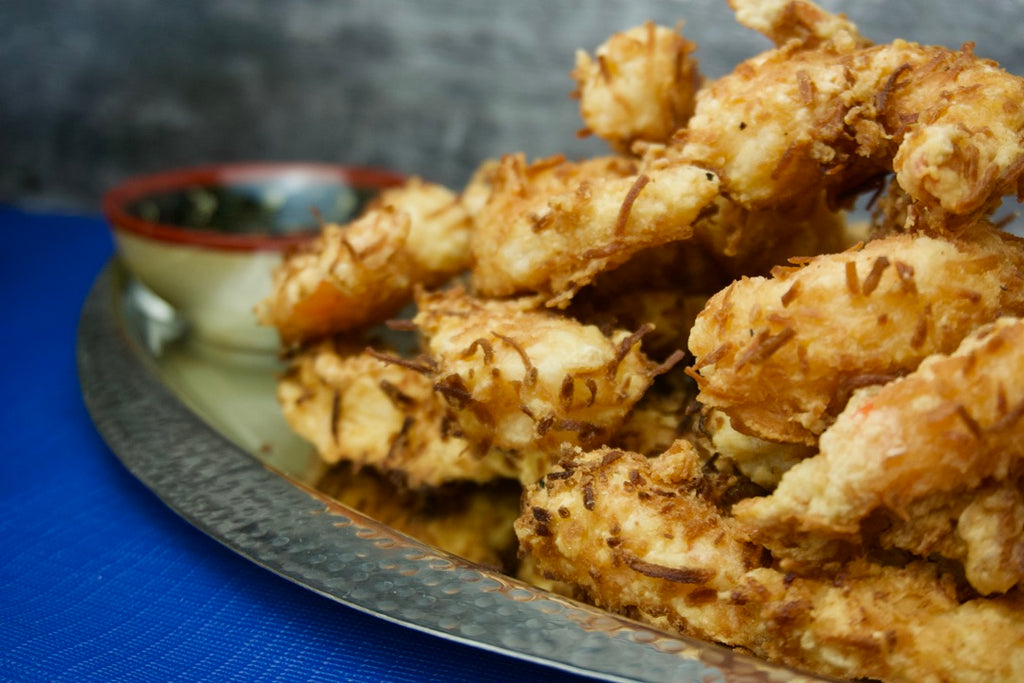 Recipe
Ingredients:
Vegetable oil, for frying
3 large eggs, lightly beaten
1 cup all-purpose flour
1/2 cup corn starch
Pinch cayenne
Kosher salt and freshly ground black pepper
1 1/2 cups  shredded sweetened coconut
1 lb Tropical Blue Shrimp, peeled and tails removed
Sweet chili sauce, for dipping
Instructions:
Heat about two inches of oil in a heavy bottom pot over medium heat until a deep-fry thermometer registers 350 F.
Meanwhile, put the eggs in one shallow dish.  Whisk together the flour, cornstarch, cayenne, 2 teaspoons salt and 1 teaspoon pepper in a medium bowl.  Transfer half the flour mixture to a third bowl and stir in the coconut.
Working in batches, dredge  the shrimp in the flour mixture, shake off any excess, dip in the eggs and then roll in the coconut mixture, pressing to coat thoroughly.  Fry until golden, 2 to 3 minutes adjusting the heat as needed to maintain the oil temperature. Transfer the shrimp to paper towels to drain.  Serve with sweet chili sauce on the side for dipping.