Beet Risotto with Shrimp and Scallops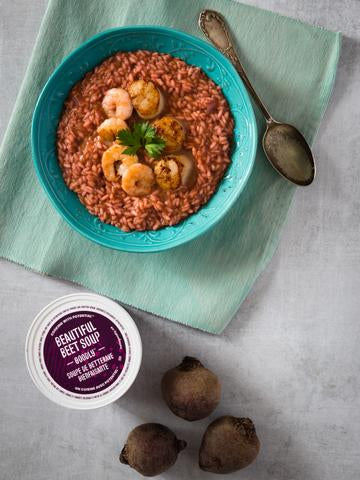 Organic Ocean is partnering with not-for-profit Goodly Foods Society and 100% of the sales dollars from these soups will be returned to Goodly Foods to support their amazing work.

*This recipe calls for Organic Ocean Shrimp & Scallops and Goodly Foods Beautiful Beet Soup!
100 % plant-based soups were developed by celebrated Vancouver Chef, Karen Barnaby. Visit our SHOP SEAFOOD tab to buy and learn more about these amazing products!
Beet Risotto with Shrimp and Scallops 
Makes 2 servings 
Risotto is an easy dish to make and Beautiful Beet Soup gives it a stunning colour and flavour. This can also be served as a side dish with salmon or whitefish. 
Ingredients:   
1 x 500 mL container Goodly Beautiful Beet Soup, thawed  
5-6 cups (1.25-1.5 L) water 
2 Tbsp (30 mL) extra-virgin olive oil   
1 cup (250 mL) finely diced onion  
2 cloves garlic, minced  
2 cups (500 mL) Arborio rice  
salt and pepper  
finely grated zest of half a lemon, optional 
1/2 cup (125 mL) grated Parmesan cheese, plus more for serving if desired  
2 Tbsp (30 mL) unsalted butter   
2 Tbsp (30 mL) neutral flavoured vegetable oil 
6 Hokkaido Scallops, thawed 
8 Wild BC Humpback Shrimp Tails or Wild Blue Shrimp thawed and peeled 
Cooking Instructions:   
In a blender, puree the soup until smooth. Reserve. Place the water in a pot and bring to a simmer.   
In another pot, heat the oil over medium heat. Add the onion and garlic; cook until soft but not brown. Add the rice and sauté for a minute to coat it with the oil. Add 1 cup (250 mL) of the water and let it absorb into the rice while stirring frequently.  
After you've added 3 cups (750 mL) of water, switch to the pureed beet soup. Continue adding liquid and stirring until the rice is tender but still firm to the bite, using all the water if needed.  
Halfway through the cooking, heat the vegetable oil in a nonstick pan over medium-high heat. Place the scallops and the shrimp in separate areas of the pan. Cook the scallops until they form a brown crust on one side. Cook the shrimp, flipping them frequently until pink and firm. You can also cook the raw shrimp and prawns directly in the risotto at this point, we won't judge you. 
The risotto should be flowing and not a thick mass of rice. Season to taste and vigorously beat in the cheese and butter. Stir in the lemon zest. Plate and top with the shrimp and prawns. Serve immediately with additional Parmesan if desired.