Slow-Roasted Miso Sesame Sablefish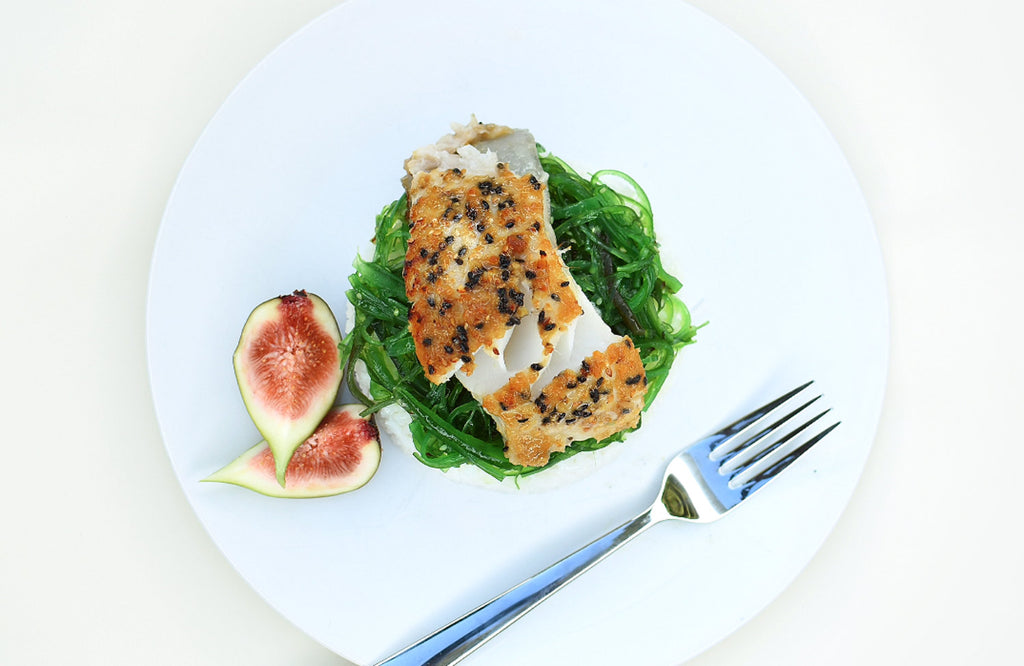 Slow roasted miso sesame flavoured sablefish isn't just big on flavour and supremely tender, it's also foolproof and impossible to overcook... Our secret weapon for mouth watering, flawless sablefish that comes out perfectly every single time? Using a simple miso marinade (save it as a sauce!) and an easy slow roasting method.
INGREDIENTS
1/4 

cup 

white miso paste

1/4 

cup 

mirin

1 

tablespoons

 gold or dark brown sugar

1 

tablespoon 

finely grated peeled fresh ginger

1 

teaspoon 

toasted sesame oil

1/4 

teaspoon 

kosher salt

4 portions (or 1 fillet)

 

skin-on sablefish fillet
Toasted sesame seeds, for garnish
INSTRUCTIONS
Mix the miso paste, mirin, sugar, ginger, sesame oil, and salt in a small, broiler-safe baking dish which is large enough to hold the sablefish. Whisk until the miso is well mixed and the sugar is completely dissolved. Place the sablefish in the marinade skin side up. Cover and refrigerate for at least 1 hour or up to overnight.

Remove the sablefish from the fridge and let it sit at room temperature while you prep an oven rack close to 6 inches from the broiling element, then pre-heat the oven to 250°F.

Use a spatula to carefully flip the sablefish over so it's skin side down in your baking dish.

Bake until the sablefish is bright white in the center (you might spot a bit of flaking at this point), cooked through, and flakes easily, 25 to 35 minutes, depending on the thickness of the portion or the fillet. Check the fish at 25 minutes by inserting a fork into the thickest part of the fish and gently pull. If the fish is flakes and soft easily, then it is done. If it is still gooey and if the fork is tricky to pull out, bake the sablefish for 5 more minutes and check again.

Remove the sablefish from the oven, turn the oven to broil, and heat for 2 to 4 minutes. Return the sablefish to the the oven and broil until lightly darkened/charred in spots on the top and around the edges, 3 to 5 minutes.



We recommend serving with white or wholegrain rice (you can use the extra sauce to flavour your rice) and a fresh salad using arugula or as we chose, a tasty Korean seaweed salad loaded with healthy iodine.