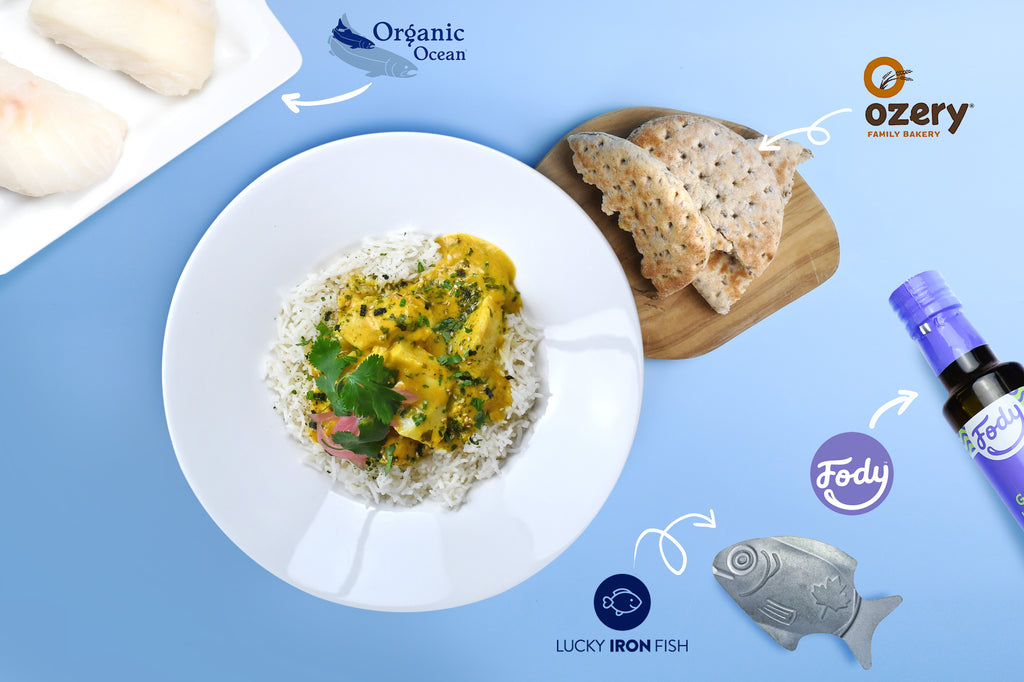 This recipe takes a basic curry sauce and boosts it with healthy nutrients and wonderful flavour aromatics. In this recipe you will discover products that are healthy in so many ways and the best part is just like us at Organic Ocean, they are all B-Corps helping provide "better for you" foods! 
Ingredients
4 individual Organic Ocean pacific cod portions
1 can of coconut cream

 

1 Jar of korma curry sauce

 

2 teaspoons grated fresh ginger (1 teaspoon of dried)

 

2 teaspoons grated fresh turmeric (1 teaspoon of dried)

 

2 teaspoons garam masala blend

 

Chopped fresh cilantro (amount to taste)

 

4 Rounds of Ozery Bakery Sandwich Rounds

 
Instructions
Dice the cod into 1-inch pieces and season cod fillets with salt & pepper
In a small saucepan over medium-high heat, add ONLY the coconut cream to the pan and cook for approx. 5 minutes (the cream will split and turn into coconut oil and caramelized coconut sugars)

 

Add the ginger, turmeric and garam masala to the pan and cook for approx. 2-3 minutes (the kitchen should smell amazing at this point) 

Add a jar of korma curry sauce and cook for another 3 minutes
Finish the sauce with 3 tablespoons of the coconut cream and turn the pot to a low simmer

Add the diced cod to the curry sauce and stir to ensure it is well distributed
Simmer for 2 minutes and gently stir one more time! Return the pot to a simmer without stirring and cook for another 3 minutes (5 minutes total cooking time)
The cod should be fully opaque and flakes easily with a fork
Chef Tip: If using coconut milk…DO NOT SHAKE THE CAN! Open carefully and you will find the cream floating to the top. 
Rice Instructions:
To make a side of iron infused basmati rice, first, prepare your Lucky Iron Fish water by boiling 1L of water with your fish and 2-3 drops of citrus for 10 minutes

 

Remove your Lucky Iron Fish and wash/dry immediately
Lower the heat and add in 2 cups of rice. Cover, and let cook for 15 minutes then serve. For extra flavour stir in a spoonful of Fody Shallot Infused Olive Oil
Serve your curry on top of basmati rice and top with cilantro try some whole grain Ozery Sandwich Rounds to dip into your curry!