Lobster Mac n Cheese Recipe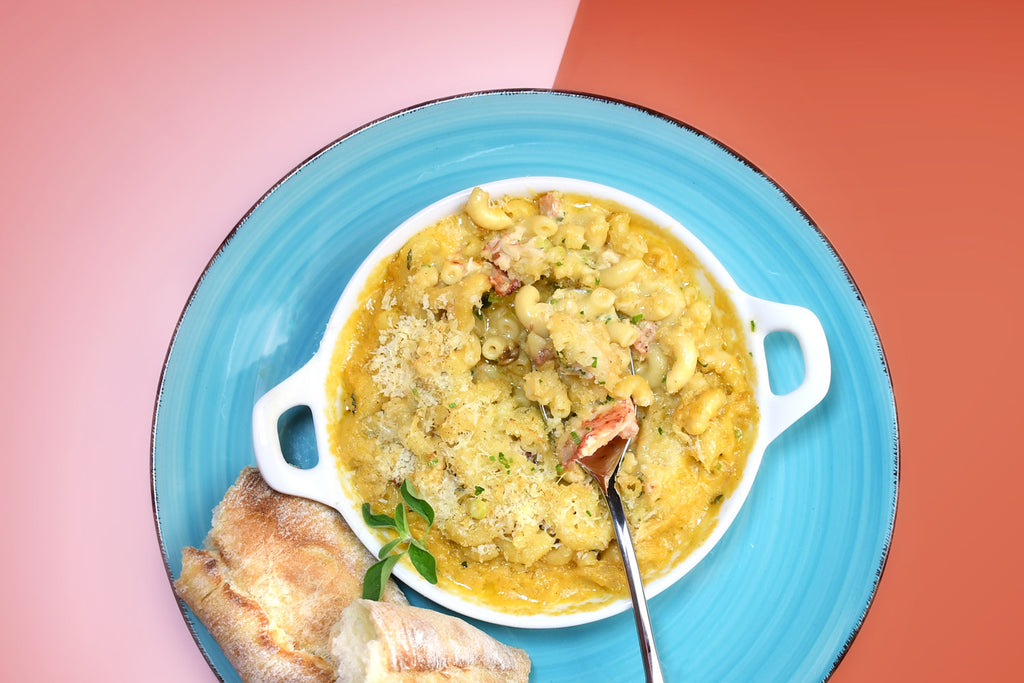 Lobster Mac n Cheese (With Spot Prawn Bisque) Recipe 
Chock full of cheesy flavour and blessed with decadent rich lobster, this truly is the perfect twist on the comfort food classic. The best choice for a special night or celebration, it's a mac and cheese that's sure to delight.
Ingredients:
2 atlantic lobster split (pre-cooked sous-vide, see instructions below)
1 500g tub spot prawn bisque
250ml heavy cream
250 g macaroni pasta (or your favourite pasta)
1/2 cup goat cheese
1/2 cup aged white cheddar cheese shredded
1/2 cup asiago (or parmesan)
1 roasted garlic (to taste)
1 shallot (fine diced)
1/4 cup of fine breadcrumbs
1 tbsp fresh chopped chives & oregano
2 green onion
100g unsalted butter
Drizzle of olive oil (x2)
Salt and pepper to taste
Lobster with Butter Preparation: 
Lobster Ingredients:
2 Atlantic lobsters splits

2 sprigs fresh herbs (Chef Julian prefers tarragon)
200g butter diced
Remove tail and claw meat from the shell.
First vacuum seal the Lobster in a heavy-duty Ziploc bag
Fill a heavy bottom pot with warm water and hang a cooking thermometer on the side… bring to just below a simmer and try to keep between 130-145F for 20 minutes only.
Remove lobster from bag, discard tarragon, voila, your succulent lobster is ready!
Mac n Cheese Instructions:
In a large pot season water and bring to boil
Pour in pasta and stir
Cook for 2 minutes less than the required amount of time written on the package instructions.
Drain and toss with drizzle with olive oil.
In a heavy bottom pot, add butter, olive oil and shallot… soften on low heat
Add the roast garlic, spot prawn bisque, and heavy cream. Bring to a simmer.
Add goat cheese and half the shredded cheddar cheese.
Gently simmer and stir until the cheese is incorporated.
Remove from the heat and add the remaining cheddar cheese, herbs, green onion, and cooked lobster.
Pour into an oven-proof casserole dish and top with asiago cheese and breadcrumbs.
Finish with a drizzle of olive oil and a little butter.
Bake for 15 minutes at 375F or until the cheese is melted and the edges start to brown.
Chef Tip: A thick crusty bread and a side salad of lettuce hearts with lemon & anchovies to compliment the meal and save room for desert.