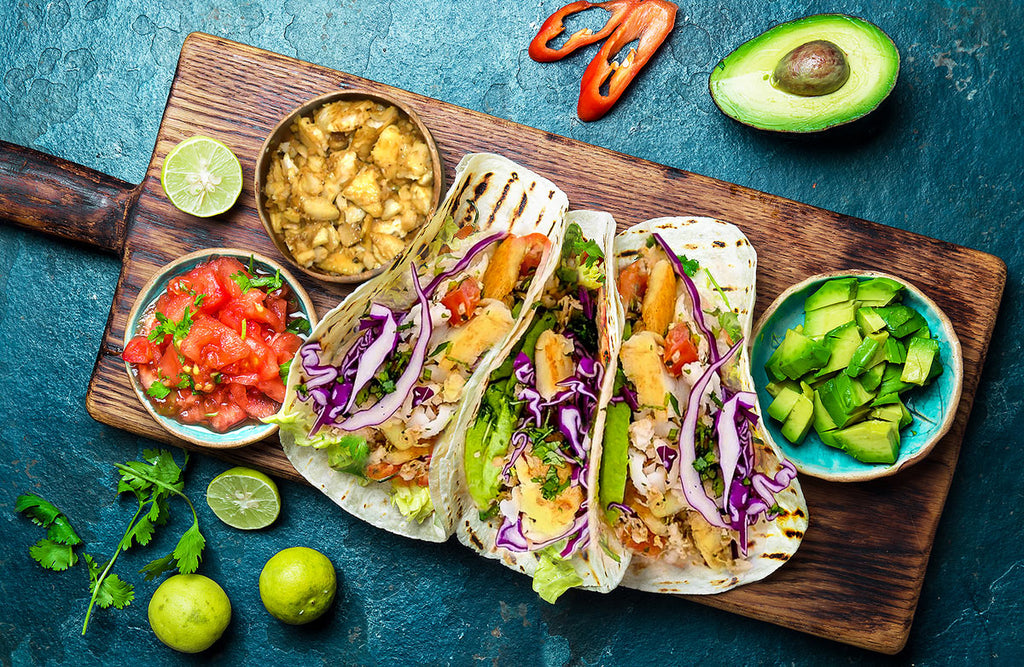 Brimming with big bold flavours, our Grilled Rockfish Tacos are perfect for prepping a quick snack to enjoy while watching the big game! These fish tacos are loaded with gourmet flavours wrapped up in soft tortillas. We think it's time you try something new and different instead of salty chips and dips! 
Ingredients
Quick Cabbage Slaw
2 cups red cabbage, sliced/shredded
1/4 cup apple cider vinegar
2 tsp sugar
Pinch salt
Mango Salsa
1 mango
2 tablespoons sweet onion, diced
1/2 lime
1 - 2 tablespoons minced cilantro
1 pinch salt
Rockfish
3/4 teaspoon chili powder
3/4 teaspoon garlic powder
1/8 teaspoon cumin
1/8 teaspoon salt
1 tablespoon olive or avocado oil
Assembling the Tacos
4 ounces shredded cheese (optional)
Diced avocados (optional)
8 small flour or corn tortillas
Instructions
Quick Cabbage Slaw
Slice the cabbage into shreds. Place in a bowl along with vinegar, salt, and sugar, and toss.
Do this first so that the brine has time to pickle your cabbage. Make sure to stir a few times as it rests.
Mango Salsa
Cut the mango, cilantro, and onion into a thin slices and place in a mixing bowl. Add the juice of half a lime and a pinch of salt. Mix to combine and allow to rest.
Pan Seared Rockfish
Preheat pan to a medium-high heat.
In a bowl make a spice rub by combining together garlic powder, chili powder, cumin, and salt.
Sprinkle on 1/2 of the spice on your fillet and rub in. 
Flip rockfish upside down so that the seasoned side is down. Add oil to the top of the rockfish, sprinkle on the last half of spice and rub in.
Close your pant with a lid and cook for 7 - 10 minutes or until the fish is fully cooked.
Remove rockfish from the pan and allow the fish to rest for about 5 minutes. Once slightly cooled, crumble fish with your fingers so it is ready to add to your tacos.
Take your salsa, slaw and rockfish and combine for an amazing easy treat! Add cilantro, diced tomatoes, avocado and sour cream to taste.