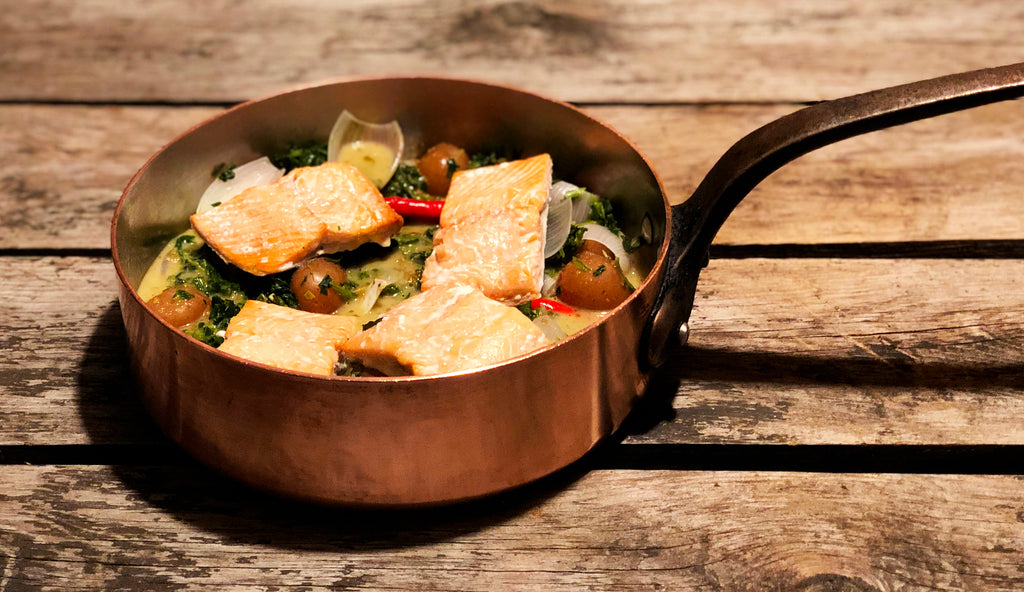 Recipe
Ingredients:
2 tbsp olive oil
½ onion, sliced thinly
1 green chilli, sliced
250g baby potatoes, quartered
1 lemongrass stalk
4 tbsp Thai green curry paste
376g canned coconut milk
250ml vegetable stock
2 tbsp fish sauce
1 tbsp brown sugar
1 cup baby spinach
Salt/pepper
2 limes
2 green onions
1 cup coriander, basil
Instructions:
Preheat oven to 400F.
In a deep baking dish, toss together onions, chilli, potatoes, and lemongrass with olive oil. Roast for 10 mins, until fragrant. Stir occasionally, to make sure onions and lemon grass don't burn.
Remove from oven. Stir in curry in paste, until thoroughly coated.
Add coconut milk and stock, cook for 15-20 mins until sauce is thickened and potatoes are cooked
Season the curry to taste and stir in fish sauce, sugar, and spinach.
Season salmon with salt and pepper. Add salmon fillets pushed between the potatoes and bake for 8 minutes until salmon is soft and flaky to touch.
Serve with of jasmine rice, or on top of your favourite noodles with fresh herbs, sliced green onions a wedge of lime.