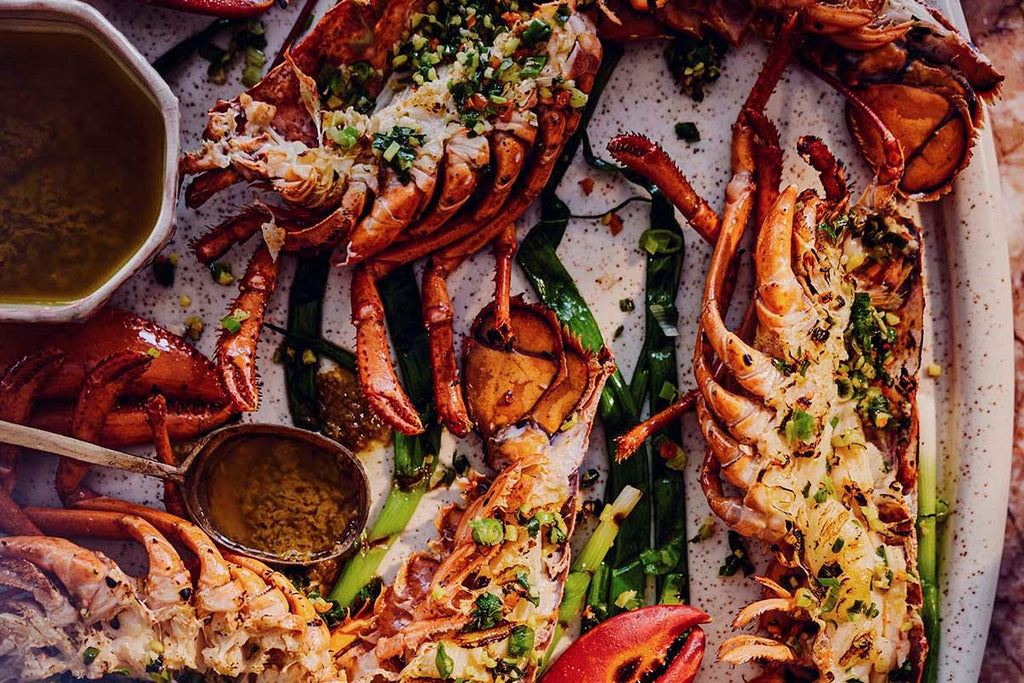 Recipe
Jerk Lobster
Marinade:
1 1/2 bunches scallions (about 12 scallions) divided

3 tbs fresh ginger, peeled and chopped

2 tbs fresh lime juice

1 tbs fresh thyme leaves

1 garlic clove, chopped

1 Scotch bonnet pepper, stemmed, seeded and chopped

1 tsp kosher salt, divided
Jerk butter:
1/2 cup unsalted butter, cubed

3/4 cup Grace jerk marinade

Canola oil, for cooking  
DIRECTIONS
Pierce the vacuum pack on the lobster and thaw overnight in the refrigerator.  Chop half the scallions and combine with ginger, lime juice, thyme, garlic, Scotch bonnet and 3/4 tsp salt.  Rub all over the cut side of the lobster and refrigerate for at least two hours. 
Melt butter in a small saucepan over medium-low heat.  Whisk in jerk marinade until combined and remove from heat. Reserve 1/4 cup jerk butter in a small bowl for serving. 
Preheat grill to medium-high (400 F to 450 F). Toss the canola oil with the remaining whole scallions in a large bowl: season with remaining 1/4 teaspoon salt and pepper.  Place scallions on oiled grates and grill, uncovered, turning occasionally, until lightly charred and tender, about five minutes. Set aside.
Grill the lobster cut side down for 2-3 minutes, then flip.  brush with jerk butter and grill another 2-3 minutes, until just cooked through.  Plate with grilled whole scallions on bottom of plate and serve with extra jerk butter. 
Recipe by Chef Jae-Anthony Dougan - Photograph by Barry and Kirn
About Chef:
Chef Jae-Anthony Dougan went from stylist at Holt Renfrew to caterer working out of his parents' garage, to entrepreneur showcasing Caribbean cuisine at restaurants, pop-ups and special events, combining regional and imported ingredients to create dishes reflective of a diverse and underrepresented region. The 36-year-old competed on Top Chef Canada in 2021, will soon be a judge on Food Network's Wall of Chefs, and is in the process of opening the second location of his Montreal restaurant, Tropikàl, in Ottawa this year. Toronto, with the largest Caribbean population in Canada, will get the third in 2022.