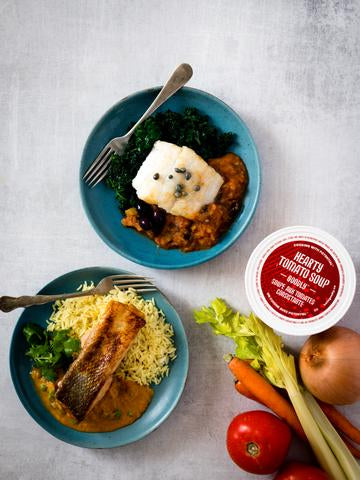 Organic Ocean is partnering with not-for-profit Goodly Foods Society and 100% of the sales dollars from these soups will be returned to Goodly Foods to support their amazing work.

*This recipe calls for Organic Ocean Lingcod and Goodly Foods Hearty Tomato Soup!
100 % plant-based soups were developed by celebrated Vancouver Chef, Karen Barnaby. Visit our SHOP SEAFOOD tab to buy and learn more about these amazing products!
Ling Cod with Puttanesca Sauce
Makes 2 servings
A great sauce that goes well with any fish and made from ingredients you probably have in your fridge. Prawns or scallops can be cooked directly in the sauce. Feel free to change up the olives, depending on what you have. There is a generous amount of sauce, so if you don't mind a little less per serving it can serve four.
Serve with pasta, rice, polenta or potatoes.
Ingredients:
1 x 500 mL container Goodly Hearty Tomato Soup, thawed
1 Tbsp (15 mL) extra-virgin olive oil
2 cloves garlic, minced
2 anchovy filets
large pinch of red pepper flakes
1/4 cup (60 mL) pitted black olives
1/4 cup (60 mL) pitted green olives
2 tsp (10 mL) drained capers
2 Tbsp (30 mL) cornstarch, potato starch or all-purpose flour
2 pieces Organic Ocean Ling Cod portions, thawed
salt and pepper
2 Tbsp (30 mL) neutral flavoured vegetable oil
Cooking instructions:
In a blender, puree the soup until smooth. Reserve. 
Heat the oil in a medium sized pot over medium heat. Add the garlic and cook until it starts turning golden around the edges. Stir in the anchovies and red pepper flakes, mashing the anchovies as you stir. Add the pureed soup, olives and capers. Bring to a simmer and cook for 10 minutes. Remove from the heat.
If you don't have a non-stick pan and have had problems with fish sticking, using cornstarch, potato starch or flour will prevent it from sticking. Spread the cornstarch out on a plate and season the fish with sat and pepper. Roll the fish on all sides in the cornstarch.
Heat the 2 Tbsp (30 mL) oil in a medium frying pan over medium high heat. Place the fish flesh side down in the pan. Lower the heat to medium and cook until golden brown, about 4 minutes. Flip over and cook on the other side for about 4 minutes until the fish just flakes when probed in the center with a thin bladed knife. Remove from the heat.
Quickly reheat the sauce and serve with the fish.
Note: Instead of pan-frying, you can bake the fish at 350°F (175°C) for 10-15 minutes.