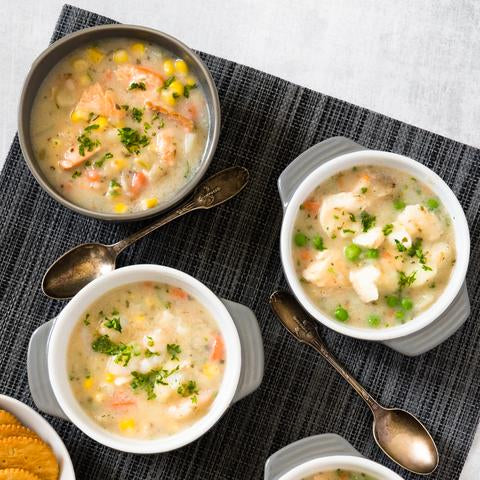 Organic Ocean is partnering with not-for-profit Goodly Foods Society and 100 % of the sales dollars from these soups will be returned to Goodly Foods to support their amazing work.

*This recipe calls for Organic Ocean Canned Sockeye Salmon and Goodly Foods Purely Potato Soup!
100 % plant-based soups were developed by celebrated Vancouver Chef, Karen Barnaby. Visit our SHOP SEAFOOD tab to buy and learn more about these amazing products!
Tin Fish Chowder 
Makes 2 main course servings 
Cubed raw fish portions or leftover cooked fish – we recommend salmon or whitefish – can be used in place of the canned salmon. Feel free to substitute any frozen or canned vegetable that you enjoy in place of the corn or peas. 
Ingredients:
1 x 500 mL container Goodly Foods Purely Potato Soup, thawed 
2/3 cup (160 mL) milk, cream or sour cream or non-dairy unsweetened milk 
1/2 cup (125 mL) frozen corn, peas, or a combination of the two 
salt and pepper 
1 can Chef Select Sockeye Salmon
Cooking instructions: 
In a medium sized pot, stir the soup, cream, and frozen vegetables together bring to a simmer then lower the heat and cook for 10 minutes. Season to taste. 
Add the canned salmon with its juices to the pot and gently break up the pieces. Heat just until the salmon is warmed through. Serve immediately.