Cedar Planked Wild Sockeye Salmon with Whiskey Maple Glaze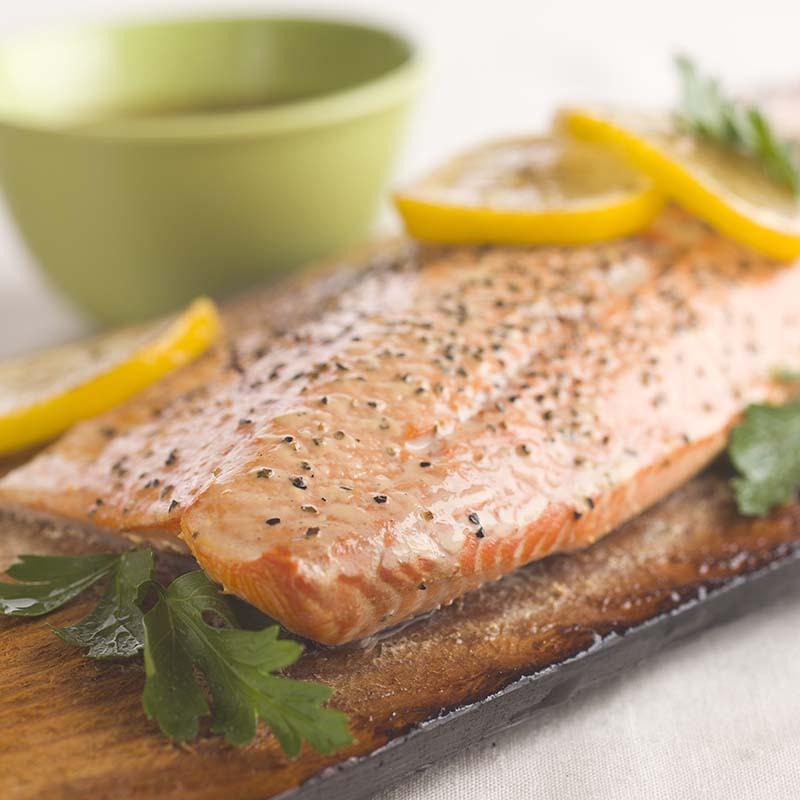 Recipe
Ingredients
1 

cedar cooking plank, soaked overnight or for at least one hour

1/2 cup Jack Daniel's Tennessee Whiskey

1 cup real maple syrup

1 tsp crushed hot red chilies

1 tbsp butter at room temperature

2-3 lbs boneless skin-on wild sockeye salmon fillet

Kosher salt and freshly ground black pepper

1 tsp granulated onion or onion powder

2 lemons, halved

Parsley sprigs for garnish

1 tbsp finely chopped flat-leaf Italian
Instructions
To make the glaze, combine whiskey and maple syrup in a small saucepan. Bring the whiskey and maple syrup to a low boil and reduce it by about half, until you have a thick syrup that coats the back of a spoon. Remove the glaze from the heat and add chilies and butter, stirring constantly until the butter has melted into the glaze. Set the glaze aside and keep warm on the stovetop.
Next, season the skinless side of a wild sockeye salmon fillet with salt, pepper and onion. Let the salmon sit for 10 to 15 minutes at room temperature, until the seasoning is moistened.
Preheat the grill on medium-high heat for 5 to 10 minutes or until the chamber rises above 500° F/260° C. Rinse the cedar plank and place it on the cooking grate. Cover the grill and heat the plank for 4 to 5 minutes, or until it starts to smoke. Reduce the heat to medium-low. Season the plank with salt and place the salmon fillet, skin-side down, on the plank.
Close the cover and cook for 15 to 20 minutes or until the fish just flakes when pressed with a fork. Make sure the plank doesn't catch fire, and spray burning edges with water if it does.
To finish, squeeze half a lemon over the fillet, and garnish with parsley sprigs and the remaining lemon cut into slices.
To serve, drizzle a spoonful of the glaze over each portion and sprinkle with parsley.
This recipe was provided by: www.bcsalmon.ca and Ron Shewchuk