Cantonese Steamed Wild Pacific Halibut with Ginger and Green Onions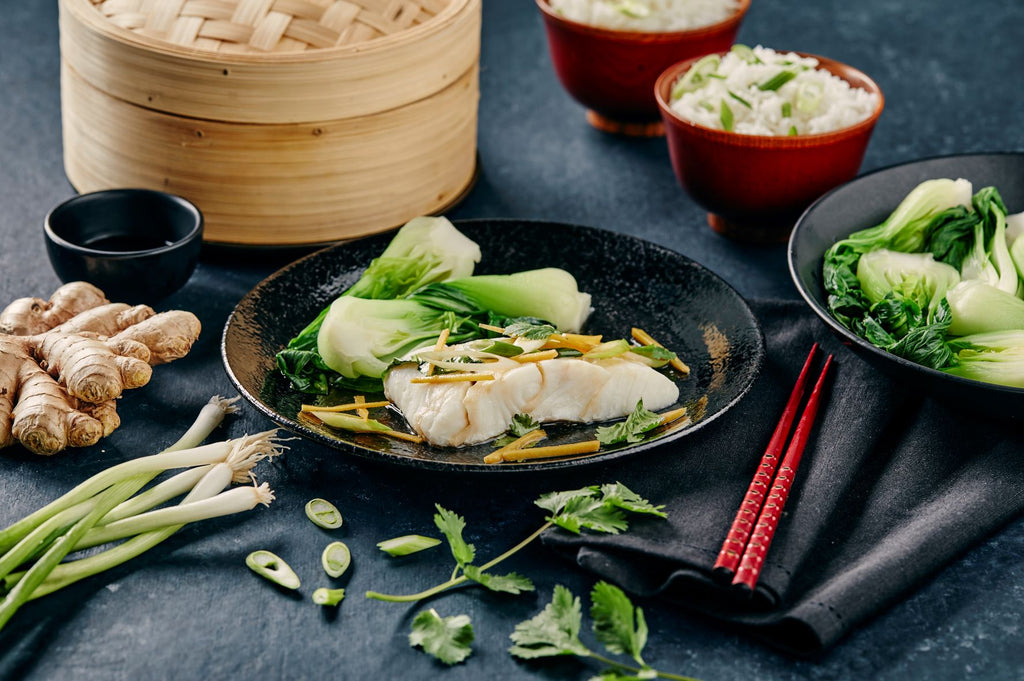 Recipe
1 ½ - 2 lb - Wild Pacific Halibut fillets, cut into 4 to 6 portions

1 ½ tsp - salt

8 sprigs - fresh cilantro, torn

1 - 1" (2.5 cm) thick slice fresh ginger, lightly smashed

2 - garlic cloves, peeled

2 - whole green onions, cut into thirds

2 Tbsp - vegetable or peanut oil

2 tsp - salt

2 tsp - sugar

2 Tbsp - Chinese white rice wine, or substitute with gin or dry sherry

Sauce and Garnish
3 Tbsp - light soy sauce

2 tsp - sugar

1 Tbsp - dry sherry

2 Tbsp - fresh ginger, cut into fine julienne

2 - green onions, cut into fine julienne

3 - 4 Tbsp - coarsely chopped cilantro

3 Tbsp - vegetable or peanut oil
DIRECTIONS
1. Wash and rinse the Wild Pacific Halibut, drain and pat dry. Rub salt gently on both sides of fish and rinse again. Place on baking rack to drain.
2. Use a large saucepan or fish poacher to hold fish and add about 1 ½ inches of cold water (about 2 to 3 quarts). Add cilantro, ginger, garlic, green onions, oil, salt, sugar and rice wine, and bring to a boil. When poaching liquid is at a rapid boil, add fish, cover and return to a boil. Cook for 1 min, covered and then reduce heat to low and simmer for 5 min. Turn off heat and allow fish to rest for a further 4 minutes, covered.
3. To test for doneness, poke the thickest part of fish with a fork; fish should flake easily. If you prefer well-done fish, allow fish to simmer another 2 minutes, covered.
4. Remove fish from saucepan, transfer to warm platter. In a small saucepan heat together soy sauce, sugar and sherry. Pour over fish, garnish with ginger and green onion. Heat oil over high heat until hot but not smoking. Carefully pour hot oil over fish and serve immediately.
Serves 4 - 6
By Chef Nathan Fong - Photograph by Tracey Kusiewicz
Featured with permission from PHMA and Wild Pacific Halibut