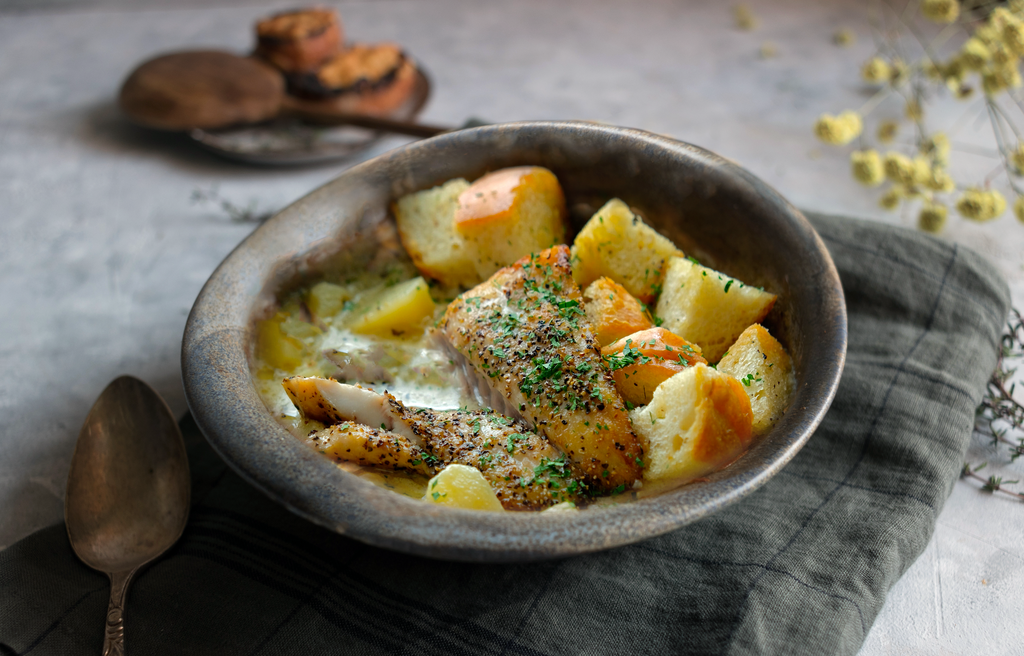 Winter Rockfish Chowder Recipe:

Warm up your winter nights with a delightful and easy-to-make dish – our Winter Rockfish Chowder. This comforting recipe is not only delicious but also a breeze to prepare, making it perfect for cozy evenings by the fireplace or casual dinners with loved ones. The rich flavours of tender rockfish, savoury country ham, and creamy potatoes come together in a hearty broth that will leave you craving more.
For the best results, we recommend using high-quality rockfish from www.organicocean.com, ensuring a fresh and sustainable touch to your meal. Whether you're a seasoned chef or a cooking novice, this Winter Rockfish Chowder is a friendly and approachable recipe that promises to warm your heart and satisfy your taste buds. Let's embark on a culinary journey that combines simplicity with deliciousness, creating a dish that embodies the spirit of winter comfort.
Ingredients:
~2 rockfish fillets, cut into smaller portions

2 medium gold onions, diced

4 cloves of garlic, minced

¼ cup country ham, sliced thin and then diced

4 tbsp butter

½ cup dry white wine

4 cups potatoes, peeled, cubed

4 cups fish stock

2-3 cups half and half

⅛ cup dry sherry

½ tsp oregano, dried

2 bay leaves

Croutons
Method:
Start by coating the base of a sturdy saucepan with a delicate layer of neutral oil (sunflower, avocado or canola). Toss in country ham and cook over medium-low heat for 3-5 minutes. Introduce butter, onions, garlic, oregano, and bay leaves. Stir and cook until the fragrance fills the air, and the onions become translucent.

Increase the heat to medium-high, incorporating sherry while skillfully scraping the pan's bottom. Integrate stock and potatoes, bringing the mixture to a simmer. Cook until the potatoes are nearly tender, approximately 10-15 minutes. Infuse the blend with cream and sherry, then lower the heat to a gentle simmer. Season with salt and pepper to your taste.

Prepare rockfish fillets with a sprinkle of salt and pepper, then swiftly sear them. Submerge the seared treasures into the simmering chowder for the final cooking touch. Alternatively, introduce fish chunks directly into the chowder, simmering for 3-5 minutes until they are perfectly cooked through.

Present your culinary masterpiece with an abundance of croutons and a generous garnish of fresh parsley. Enjoy the delightful combination!