A Spotlight on Eco-Friendly Seafood Packaging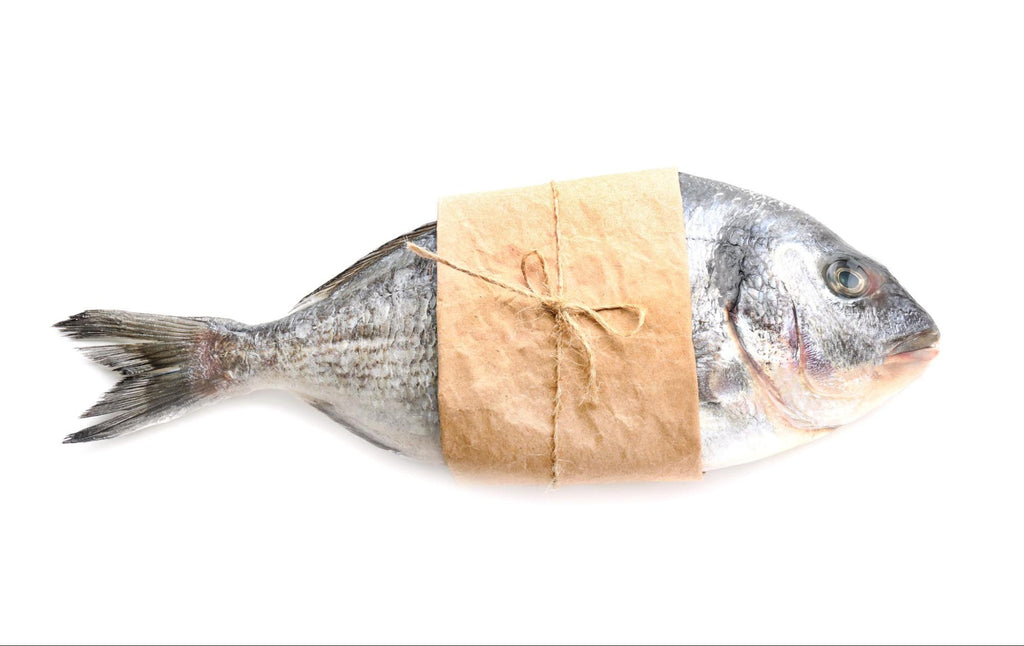 Guest post courtesy of Fish Wise
When you think about sustainable seafood, you probably think about what kind of fish it is, where it comes from, and how it was harvested. These are the kinds of questions that we have been encouraging consumers to ask when dining out and shopping for seafood for nearly two decades. But seafood sustainability isn't just about the fish or shellfish you are eating. It's also about the people behind the seafood on your plate - from global fishers and farmers to processors and distributors. Even the greenhouse gases produced to harvest, package, and ship your seafood should be factored in. 
At FishWise, we take a holistic approach to sustainability where ecologically and socially responsible practices are implemented through our business partnerships. This is why I was intrigued to learn more about one seafood company's efforts to improve the sustainability of its packaging. Organic Ocean is a Canadian seafood company with its roots firmly grounded in sustainability. Guy Dean, the President and General Manager of Organic Ocean, joined in 2019 after leading Albion Farms and Fisheries for 13 years, with his final two years as its Vice President and Chief Sustainability Officer. Guy is known in the sustainable seafood community for many notable accomplishments. He received the SeaWeb 2018 Seafood Champion in Leadership, led Albion to be the first seafood company in Canada to measure its carbon footprint, and was a founding member of the Sustainable Seafood Alliance, Sea Pact. When the pandemic hit last year, Guy and his partners knew that they needed to pivot their business model. Organic Ocean had to find a way to shift from supplying celebrity chefs and high-end restaurants with quality seafood to creating an online, next-day delivery fish market to home-bound consumers.
The 2020 holiday season was quickly approaching, and Organic Ocean needed to recover lost sales from the pandemic by finding a way to access more customers across Canada. Guy initially considered using traditional packaging materials to ship across the nation, but they were grossly unsustainable. From large styrofoam coolers and wax-coated cardboard boxes that never broke down to endless plastic packaging -- the shipping waste negated the company's efforts in harvesting and delivering sustainable seafood.
Guy sought to remedy this counterintuitive packaging problem. He started by auditing all packaging materials at Organic Ocean. His audit involved listing all the packaging the company was using (including items like strapping, tape, liners, bags and wrap); who the manufacturer or supplier was; what material the packaging was made of; if the packaging was recyclable or compostable and what the recycle code was for the product. When his team couldn't figure out things by themselves, they talked directly with the manufacturer to dive deeper. They quickly discovered that much of the packaging they were using, that they thought or were told was recyclable, was not. He then tracked every bit of packaging and spent the next few months dedicating himself to researching and sourcing eco-friendly alternatives. His ultimate goal was to source better packaging that consumers or chefs could responsibly deal with and easily recycle on their own. The biodegradable and compostable TemperPack Climacell cooler replaced the traditional styrofoam cooler. Wax-coated boxes that never disintegrated and couldn't be recycled were replaced with recyclable boxes and dry ice. Instead of using staples that needed to be removed before recycling, Guy sourced a foldable box with tabs that secure the package. Even the containers and plastic wrap were replaced with plant-based materials. Almost every single packaging material is now eco-friendly - packaging tape and marketing materials included. And the seafood arrives in perfect condition as the cold chain has been tested and is maintained the entire distance.
However, this transition was not without its challenges. Organic Ocean weathered a significant loss with the additional costs their responsible packaging incurred. Packaging costs were 30 to 50 percent more to do it right, but as Guy stated, "Using recyclable, compostable and biodegradable materials was never an option for us - rather a necessity. It's the little things that all add up, and in our case, these details are critical to meeting the high sustainability goals we have as a company."  But these costs shouldn't be absorbed only by seafood companies. These costs need to be factored into the true cost of sustainable seafood.
We hope that Organic Ocean's commitment to holistic sustainability inspires others to do the same. If you are a retailer, consider the packaging you offer your customers and ask your suppliers to improve their practices. If you are a restaurant and you haven't already done so, please ensure your take-out containers are sustainably sourced and ask your suppliers to step up their game too. And, of course, if you are a seafood lover, don't be afraid to demand more and ask for your seafood (and its packaging) to be sustainable. Our oceans have enough plastic and waste in them, but you can help change this.
By Lana Brandt,
FishWise Communications Manager